Ten LBC Interviews Which Made Headlines In 2017
18 December 2017, 12:33 | Updated: 18 December 2017, 13:49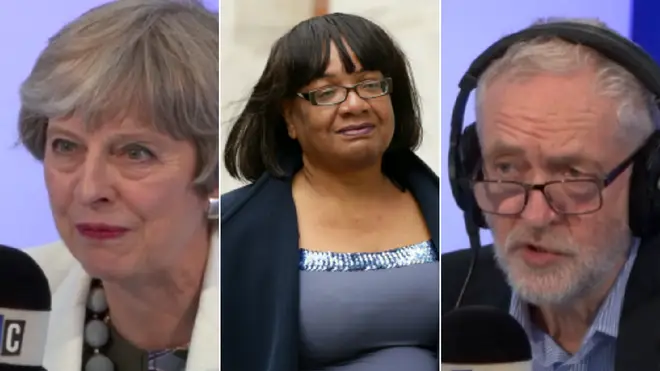 LBC has become famous for holding big-name guests to account. From a famous interview with Theresa May to THAT moment with Diane Abbott, here are our top interviews from this year.
1. Diane Abbott's Agonising Interview With Nick Ferrari
This was THE iconic moment of the 2017 General Election. It all started off so smoothly, with the Shadow Home Secretary announcing Labour's plan to increase police numbers.
But one simple question from Nick and the interview spiralled horribly out of control. This made the front page of every newspapers.
2. Theresa May Refuses To Say If She'd Vote For Brexit Now
The Prime Minister is leading Britain out of the European Union, despite having voted to Remain in the EU Referendum. But
3. David Davis: I Don't Have To Be Very Clever To Do My Job
David Davis is the man who is negotiating Britain's exit from the EU. Most people would assume that would be incredibly complicated and involve going over micro-details. Not according to the Brexit Secretary...
4. Labour Slate Tory Policy On Care, So Surely They Can Tell Clive Their Policy...
Clive Bull was left baffled when a Labour MP admitted her party didn't have a policy on dealing with the social care crisis - even though she criticised the government for not having a plan.
5. James O'Brien Asks Tory MP The Same Question OVER AND OVER AGAIN
James O'Brien was forced to ask the same question again and again to the former Northern Ireland Secretary following the Conservative-DUP deal - and he simply couldn't get an answer.
After several attempts at getting Ms Villiers to answer the question, James said: "That's not the question I'm asking, is it?" But Ms Villiers responded: "Well that's the answer I'm giving you."
6. Boris Stands By Controversial '£350m For The NHS' Figure
It was less than 24 hours after the EU Referendum that Nigel Farage admitted the NHS would not receive £350m more every week after Brexit. But a year later and the Foreign Secretary is still standing by that figure.
Nick Ferrari told him: "Jeremy Hunt told me he didn't recognise the figure yesterday." Boris's response to that: "Well, you know. I'm just giving you... well look, there's no question... most people in this country, whether Leavers or Remainers will be gouging out their eyeballs with teaspoons at this conversation because we've had this so many times."
7. Jeremy Corbyn: Labour Would Have Abolished Tuition Fees By Now
Jeremy Corbyn says tuition fees would have already been abolished, if the Labour Party had won June's general election. The Opposition leader joined Sadiq Khan to answer your calls
8. Jacob Rees-Mogg: I've Never Changed A Nappy In My Life
Few people had a year as good as the Tory MP after Moggmentum took hold and he became a favourite to be the next Conservative leader.
His wife also gave birth to their sixth child. And that made his admission to Nigel Farage even more remarkable.
9. Peston Admits Brexit Voters Were On The "Right Side Of History"
In a frank and honest interview on LBC, Robert Peston says he now feels Brexit voters were on the "right side of history". ITV's political editor joined Iain Dale for a fascinating conversation ranging from Trump to Britain leaving the European Union.
10. Michael Gove Gets His Numbers Hopelessly Wrong On Tory Manifesto
When Michael Gove was interviewed by Nick Ferrari on the Conservative manifesto, he didn't just fall foul of Nick's questions once, but he got it hopelessly wrong twice.