Listen To LBC On Android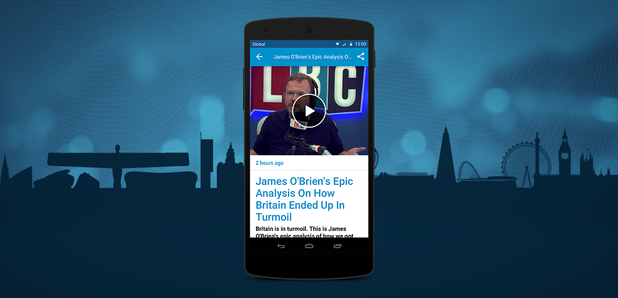 LBC has updated our Android app - and it will change the way you listen to the radio.

But now, you can listen to every show from the last week on LBC for FREE.

So if you missed Nick Ferrari, James O'Brien, Nigel Farage, Steve Allen or any of your other favourite LBC presenters, you can listen to their shows whenever you want.

On top of that, you can watch LBC's most popular videos and read the latest news from LBC right in the app.

-->-->

If you already have the app, please update it to the latest version.

* Using your phone to listen to the radio uses data capacity, at roughly 27MB an hour (60kbit/s). If you exceed your data allowance, your operator may charge you for each extra MB you use.
* You can use your own WiFi (or other unlimited WiFi services) for as long as you like - this does not affect your mobile phone data allowance.
* You should not use these applications on mobile networks whilst roaming, as data allowances do not apply whilst roaming and data charges are extremely high.