NY Times Journalist: Donald Trump Doesn't Like Us Because We Write Real News
25 February 2017, 10:07 | Updated: 25 February 2017, 10:47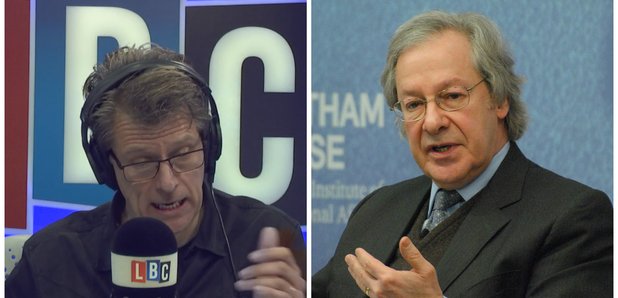 Here New York Times journalist, Steve Erlanger, says the publication was banned because it doesn't produce "fake news" but real news.
Trump banned some major news outlets from an informal White House Press briefing, including the New York Times (NY Times).
Here NY Times's London Bureau Chief, Steve Erlanger, told Andrew Castle it's because NY Times produces real news, not "fake news".
He said: "We are not creating fake news. He doesn't like us because we're writing real news, and real news which is critical of him. So it's absolutely clear what he's doing.
"We have investigated, along with CNN, and Washington Post, his ties during the campaign to the Kremlin. We've investigated his tax returns, we have called into question many of his statements, he doesn't like us, so he calls us an enemy.
"We are not his enemy. We are doing our job."
The journalist made the comments after Andrew had earlier recalled his own experience with media outlets during his time as a professional tennis player.
Steven went on: "I feel terrible that that happened to you but we are not a British tabloid, and he's not banning the Daily Mail, he's banning the New York Times and the BBC, and CNN, it's a whole different thing.
"I recognise your analogy but I think it's a misleading one."
On his Saturday morning LBC show, before welcoming the guest on air, Andrew told his listeners he did not condone Trump's actions, but empathised with why the US President did it.
Andrew said: "He doesn't like what they say about him, so he's banned them. Of course that's a dangerous road, that's the road to totalitarianism, if you want to get a little James O'Brien about it.
"I can completely understand that. James would go off on one for 10 minutes on that, and I would get it. But some of what he's saying is true.
"For instance, when he talks about "sources", in newspapers, being "fake". He's right. You can say anything in a newspaper and say "nine sources said"...he's not wrong."
Andrew went on: "When my wife was pregnant, one of the big newspapers in this country sent round a girl to seduce me, and ruined my life, and ruined my wife's life, and that of my unborn child.
"That's one example, I could give you 10. That's one example, and it happened to me, I'm a no one. I was a no one tennis player, and you might say I am a no one presenter, but that happened to me, at my level.
"So you know, at his level, they've gone after him in a big way. So he's going after revenge, and I can understand why. Do you?"