Lord Adonis On Theresa May: Effectively Nigel Farage Is Prime Minister
30 December 2017, 10:20 | Updated: 30 December 2017, 10:21
Lord Adonis launched an extraordinary attack on the Conservative government, claiming that they were so close to Ukip that Nigel Farage is effectively running the country.
The Labour peer quit from the government's infrastructure commission over Theresa May's position on Brexit.
And speaking to Andrew Castle this morning, he did not hold back in his criticism of the way the Prime Minister has handled leaving the EU.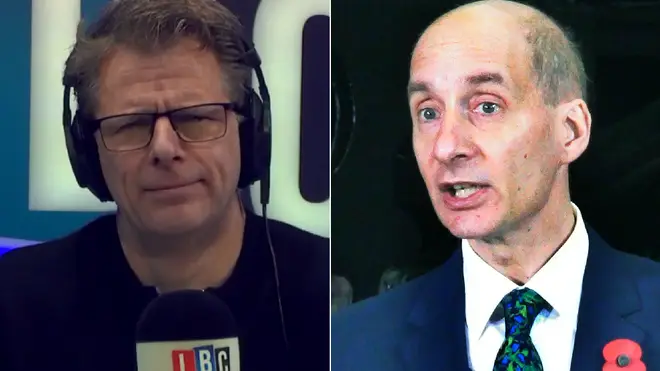 Discussing his resignation, he told LBC: "I feel I had no choice.
"I have a lot of respect for the Prime Minister. She took over the government of the country at a time of crisis after the referendum result when David Cameron suddenly resigned and I have no personal grievance against her at all. She's been extremely courteous in all her dealings with me.
"I just disagree with her on policy. I think the policy of hard Brexit is wrong.
"It's not a proper judgement of the interests of the country, which I think were to stay in the European Customs Union and the Single Market upon which so many jobs depend. Whatever you then did about the supranational aspect of the EU, which I think we could have come to an arrangement on which would have squared with a referendum result.
"Instead of which, what unfortunately the Prime Minister has done is turn the Conservative party into an adjunct of Ukip.
"To all intents and purposes Nigel France now Prime Minister of the country and I don't think that's an acceptable position for the country to be in.
"And my job as an independent adviser was to give independent advice. But there comes a point at which when your advice is so unwelcome that the government starts asking you to shut up, you can't really carry on."
But Andrew told the peer how ludicrous that sounds, responding: "That seems utterly ridiculous. An adjunct of Ukip with Nigel Farage in charge of the country? I mean, this will sound to people like complete nonsense.
"And furthermore, in your resignation letter, you describe Brexit as a populist and nationalist spasm worthy of Donald Trump. This sounds like histrionics to people."