This RMT Boss Is Sick Of People 'Attacking' Union Members
8 January 2017, 09:02 | Updated: 8 January 2017, 10:47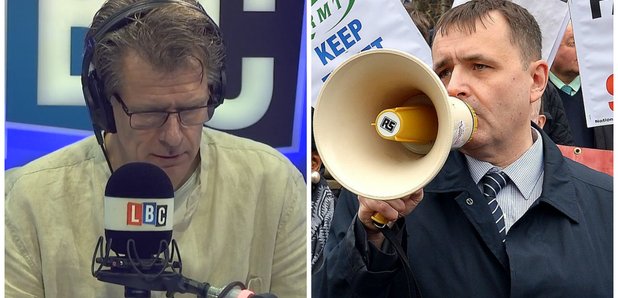 RMT boss John Leach told Andrew Castle that the Tube walk-out is about safety in this passionate defence of the strike.
Central London stations will be closed for 24 hours from 6pm this evening as a Tube strike is set to go ahead.
RMT boss John Leach spoke to Andrew Castle alongside Conservative MP Chris Philip this morning to discuss why the strike is going ahead.
The MP didn't hold back when criticising the strike, and even proposed that the UK follow other EU countries' lead by making all-out striking illegal.
Mr Philip suggested that the rights of commuters have not been considered and that striking should only be allowed if a partial service is still running.
The bold statement prompted Mr Leach to jump into a passionate defence of the strike.
He said: "I think this is appalling. To attack peoples' human rights to take lawful, industrial action, and accuse my union as raising bogus concerns."
The union boss went on: "I want to refute what the other speaker talking about...on facts. Facts. At Canning Town last year, because of the de-staffed control rooms, there was nearly a catastrophe of overcrowding.
"Fact. At the North Greenwich incident which was, thankfully, a bomb that didn't go off. The station control room had been closed under these cuts.
"Fact. You can't run London Underground with 830-odd less front-line safely."
Andrew then interjected: "But you have been since last year, John."
Mr Leach continued: "Please let me finish. Your travel report just talked about fire alerts on the Bakerloo line. To say we've got bogus arguments, in actual fact is an insult to the thousands of London Underground staff. Forget the RMT in this. What about them who aren't members of our union?
"These people commit their entire working lives to working in London Underground. The management agree with us privately anyway.
"All I am hearing is insults and attacks on my union for raising legitimate concerns about health and safety."
Andrew then quizzed the RMT boss on whether there was a political agenda behind the strike following recent comments from the union's president.
Mr Leach said: "Tonight thousands of London Underground staff will have their own political opinions about this, that, and everything else, will be taking strike action over safety.
"They won't get a penny out of this, it's about safety and nothing else."