'Tony Blair Can't Just Say I'm Back Now Boys' Says Iain Duncan Smith
18 February 2017, 11:02 | Updated: 18 February 2017, 12:37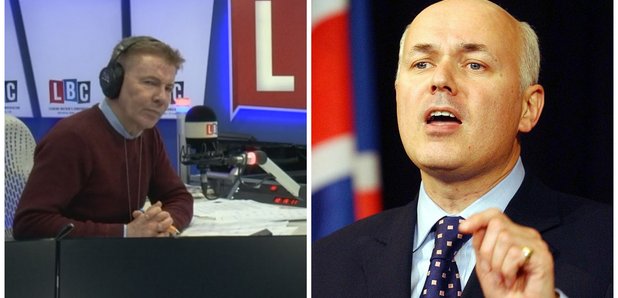 Former Conservative leader and Leave campaigner, Iain Duncan Smith, spoke to Andrew Pierce about Tony Blair's pro-EU speech yesterday.
Former Labour Prime Minister Tony Blair yesterday (Friday) gave a speech calling for millions of worried Britons to rise up against Brexit.
Here former Conservative leader Iain Duncan Smith, a Leave campaigner, speaks to LBC Presenter Andrew Pierce about the controversial speech.
Andrew asked Mr Duncan Smith what his advice would be, former party leader to former party leader.
He said: "Unless you're actually directly involved, I mean I stayed in the House of Commons, I want to be here and this is what I want to do, and he left.
"He left immediately when he finished being leader which I thought was a bit strange and he's gone off...and set his target to make a lot of money, set up his organisation, he's done that.
"I don't think you can go off and do all of that, and then turn round and come back and say 'well lets all airbrush that out, what I've done for the last few years, I'm back now boys, and this is the authentic voice of Labour'.
"It's not. I mean the dismissal by some of these elite Labour politicians, and others by the way, that somehow you know migration wasn't important.
"It was an important issue. If you live in communities where people have come in on very cheap and low wages, who have displaced your income and lowered it.
"It matters if your services in some of these areas have been under pressure because others have come in and put pressure on those services, but it mattered to you.
"So dismiss peoples' views in these communities as being prejudiced etc. I think is, again, rather arrogant. I think that those who are in more privileged positions recognise that the experiences of the whole of the United Kingdom went into the balance on that vote.
"Not just some of those living in wealthy areas in different parts of the country, who feel like they're very comfortable and did't really matter.
"Migration was a very different experience for many of those who weren't in the position of employing nannies."