The Pro-Corbyn Caller Who Left Darren With His Head In His Hands
10 August 2018, 06:00 | Updated: 10 August 2018, 08:48
This caller managed to leave Darren Adam with his head in his hands in the LBC studio, after claiming that Labour's Deputy Leader Tom Watson is "a Blairite" – despite him having played a key role in forcing Tony Blair to resign as Prime Minister.
Richard called the LBC presenter from Brixton to react to the YouGov poll which put Labour some four points behind the Conservatives, despite this week having been dominated by Tory division of Boris Johnson's comments about women wearing burkas.
He told Darren that Jeremy Corbyn has "fire coming in from the outside" via the media and also "fire coming from within from the Blairites, like Watson". Darren slumped onto the desk at this point, arguing that the West Bromwich East MP is "the opposite of a Blairite".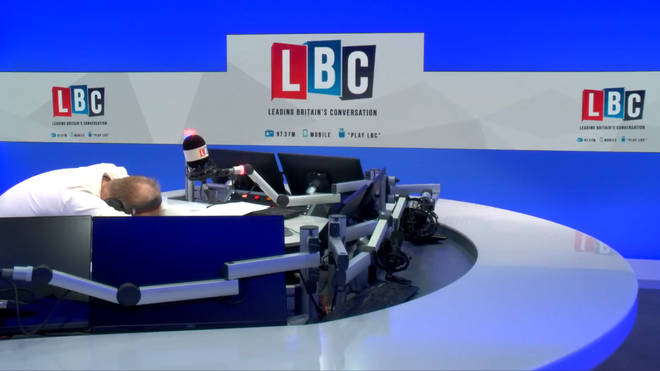 Richard conceded that Watson "is not necessarily a Blairite", but then went on to claim that "he's onto that anti-Semite tip".
That comment also left Darren sighing loudly. He replied that the 51 year-old "expresses horror that his Labour Party will continue to be embarrassed and shamed – and rightly so – by the accusations of anti-Semitism by people who claim they're victims of anti-Semitism" within it.