Former Conservative MP Calls Stepdad Of Sick Child "A Pathetic Cretin"
23 October 2018, 12:04
Yesterday, Stuart Jackson spoke to Eddie Mair about how we can stop the use of nasty language in politics. Later in the day, he called the stepdad of a hospitalised child "a pathetic cretin"
The former Conservative MP was responding to a tweet from Anthony Hobley, which read: "My stepson had an operation yesterday at Great Ormond St. He's incredibly brave but gutted he can't be at the People's Vote March today with his brothers & sisters. You can see he'll be there in spirit & his brothers are saluting him with a dab!"
The tweet contained pictures of the young boy at Great Ormond Street hospital.
With no context whatsoever, Mr Jackson responded: "What a pathetic cretin."
Labour MP Wes Streeting told him to delete it and apologise, saying: "This is beneath you."
But Mr Jackson insisted: "What sort of individual invades their sick child's privacy at a sensitive time to make a political point about the so called Peoples Vote? Really. Awful."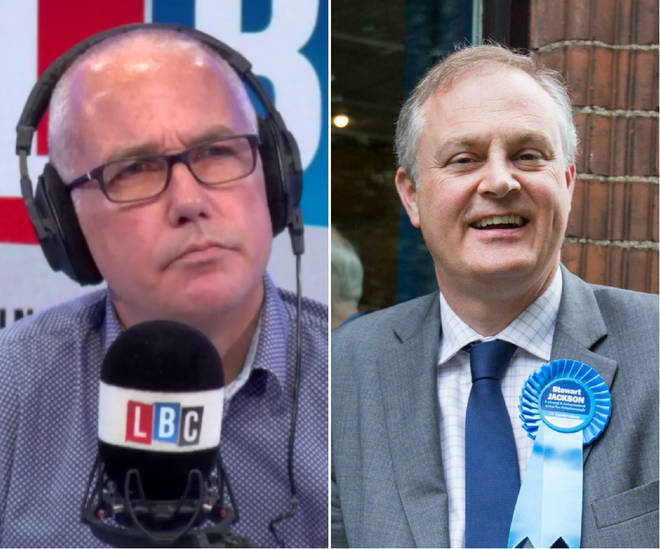 His outburst came just six hours after he spoke to Eddie Mair live on LBC about an unnamed Conservative MP's call to "knife" Theresa May.
Asked about the use of this nasty language, he told LBC: "Colourful language has always been part of politics and some people do sometimes say something they later regret.
"But the reality is that on social media, the number one target of social media is male, Conservative MPs.
"All MPs get a welter of abuse on Facebook and Twitter just discharging their normal duties so let's not get bent out of shape about this.
"It is unacceptable to talk about killing someone. Clearly that stands to reason."