Homeless Pensioner Thanks LBC Listeners For Changing His Life After Raising Over £25k
19 December 2018, 08:07 | Updated: 4 January 2019, 09:24
"John", a retired firefighter who is currently homeless, said thank you to LBC listeners after an earlier phone call from him inspired you to give over £25k to a fundraising page for him.
Earlier this week, "John" wept down the phone as he described himself as a "failure" during an absolutely heartbreaking call to Eddie Mair.
"John" and his wife have been living between service stations and hotels for two-and-a-half years.
He was evicted from his property when his salary was reduced by two thirds after being put onto a zero-hours contract.
"I cannot believe what's happened, I didn't ask for anything when I called up", John said
"I'm never stuck for words...but I just can't believe this, it's like winning the lottery Eddie", he continued.
In his initial phone call to LBC, he told Eddie: "I was living in a lovely flat, and I couldn't afford to the rent".
"We was paying £60 a week storage but it was unsustainable - they sold everything, including our clothes.
"We're walking about in summer clothes at the moment."
He continued: "All our pension, everything we've got we pay for a Travelodge - that's all we can do, I can't leave my wife sleeping in the cold.
"We slept in the motorway services for about two weeks."
"John" became emotional as he added: "I feel like such a failure, I was a firefighter, my wife is a retired nurse."
His called moved many LBC listeners to tears - with many wanting to help "John".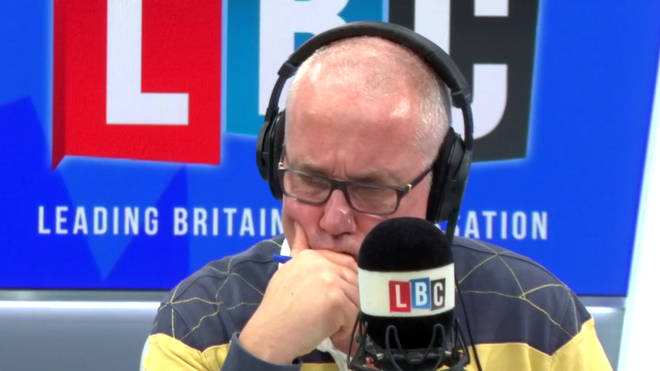 @LBC please help that poor homeless man John and his wife. Heartbreaking call to Eddie. 😢

— sue redding (@redding_sue) December 18, 2018
Due to the massive response to John's story, Eddie Mair's team had set up a GoFundMe page - which has raised over £25,000 in 48 hours
LBC is making sure that every penny goes towards helping "John" and his wife get back on their feet.