MPs Can't Stop Brexit, Says Labour's Hilary Benn
12 November 2018, 17:43 | Updated: 12 November 2018, 17:49
It is possible for Brexit to be stopped - but not by MPs, Labour MP Hilary Benn has told LBC.
His remarks came after Jeremy Corbyn told a German newspaper Labour "can't stop" Brexit.
The Labour leader instead urged his party to "recognise the reasons why people voted Leave".
Today, Sir Keir Stamer, the shadow Brexit secretary, contradicted Mr Corbyn, telling LBC that Britain's departure from the EU can be halted.
So Eddie Mair asked Mr Benn, Chair of the Brexit Select Committee, who was right.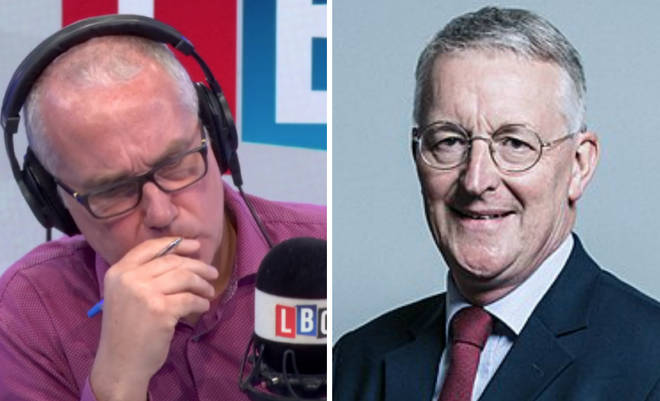 "The only circumstances in which it could would be if there was another referendum," the MP replied.
"But I think we are some way away from that, at the moment we don't even know the deal the Prime Minister may or may not bring back from the negotiations taking place in Brussels as we speak."
Eddie replied: "Only a referendum? Not even MPs could stop Brexit?"
Mr Benn responded: "No, I think since the decision to leave the European Union was taken in a referendum, I think the only thing that could change that was another referendum - it couldn't be a decision for Parliament."