David Miliband: I'd Probably Join Protests Against Donald Trump
1 February 2018, 18:33 | Updated: 1 February 2018, 18:37
David Miliband has told LBC he'd "probably" join protests against Donald Trump if he's in the country at the time.
The former Labour Foreign Secretary said demonstrations should be about what the President has "said and done" rather than the visit itself.
He joined Iain Dale for a wide-ranging interview on Thursday afternoon.
Earlier this week it was reported demonstrators were planning the "biggest protest in UK history" against the Republican's visit.
Asked to give his verdict on the plans, Mr Miliband replied: "I think it's fine.
"I think it's totally legitimate for people to go on protest marches and if I was here I'd probably be on one myself."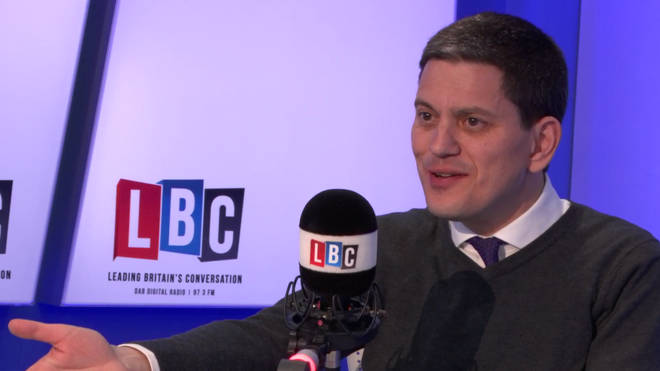 He added: "The best kind of protest is to protest the things that he's said and done I mean remember he retweeted fascist, social media affecting the UK."
"I'm a great believer you play the ball not the man and that means taking on the issues that he has raised and saying that there is a different way that actually America's abdication of its global responsibilities is wrong.
"So some people might want to protest about climate change and say 'you should be joining the Paris agreement', but you don't you don't damn the country when a Head of State comes to visit."
You can watch the full interview bellow.
David Miliband Live On LBC

Former Labour Foreign Secretary David Miliband talks refugees, Brexit and more with Iain Dale. Watch live:

Posted by LBC on Thursday, 1 February 2018