Donald Tusk Is A Disgrace To Suggest UK Could Reverse Brexit: Iain
22 June 2017, 17:58 | Updated: 22 June 2017, 18:00
Iain Dale has labelled EU leaders a "absolute disgrace" for the way they have reacted to Britain's decision to leave the European Union.
The LBC presenter was not happy with the latest intervention from the European council president - who today suggested the UK could stay in the EU.
Donald Tusk used John Lennon's "Imagine" lyrics to express hope that Britain may change its mind and reverse the Brexit vote.
But, his intervention is just fuelling Remain politicians to try and stop Britain's departure from the EU, Iain said.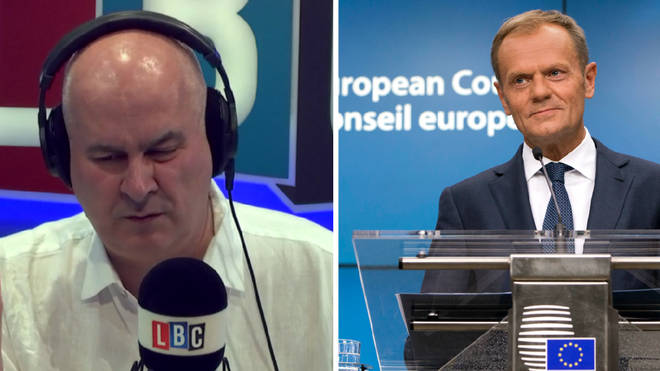 In a passionate speech, the LBC presenter warned of tragic consequences if last year's referendum was overturned.
"I'm not going to say it would lead to some sort of revolution with marches on the street, but it could be tantamount to that."
He continued: "The way that the EU has reacted to the vote of the British people has been an absolute disgrace.
"I think it has not only confirmed the British view that we should leave, but it's also made some people who voted Remain think 'do we want to be part of this organisation?'."