Emily Thornberry Says Labour Would Seek To Replicate Customs Union Post-Brexit
22 February 2018, 17:55 | Updated: 22 February 2018, 19:55
Labour would seek to join a new customs union which is "pretty much like the current customs union" post-Brexit, Emily Thornberry has said.
The shadow foreign secretary suggested Labour would be willing to give up the freedom to sign independent trade agreements – in return for a new EU customs union
Her remarks come as Jeremy Corbyn gears up to clarify the party's Brexit position in a major speech on Monday.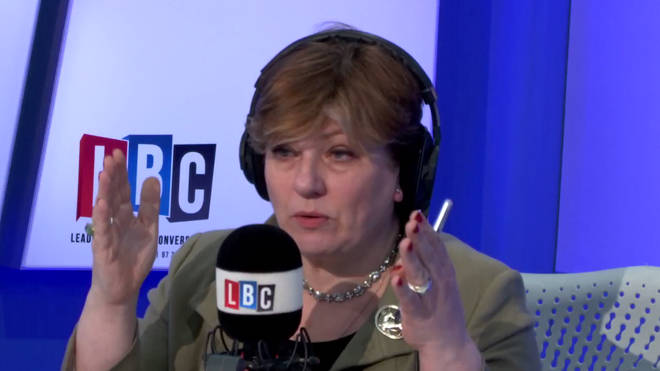 During an exclusive phone-in with Iain Dale, Ms Thornberry said Britain "would need to be in a form of customs union" with the EU to ensure frictionless trade and prevent a hard border in Northern Ireland.
She said: "Technically, because we're leaving the European Union, we can't be in the customs union we are in now.
"We leave and then we have to negotiate a new agreement that, we think, is likely to be a customs union that will look pretty much like the current customs union."
Asked whether that would prevent Britain striking trade deals independently, the Labour frontbencher continued: "If we were to say to the European Union 'if you want to negotiate with third party countries, we could be connected to that agreement and it would be to the advantage of Europe to have a great, big economy like Britain as part of your negotiations'.
"But we will need to part of forming those relationships and forming those rules."
Nigel Farage has branded Ms Thornberry's remarks as "deeply cynical".
Giving his response during his nightly LBC show, the former Ukip leader said: "Over four million people who voted Labour in the General Election voted Brexit the year before and they are being very, very badly let down.
"Frankly they've been deceived!"
You can watch the full phone-in covering Syria, Brexit and more here: