Ex-Fayed Spokesman Claims New Evidence Will Emerge About Diana's Death
25 August 2017, 18:37 | Updated: 25 August 2017, 19:43
In his only UK interview the former spokesman for Mohammed Al-Fayed tells LBC he still believes Princess Diana's fatal car crash was "not an accident".
Speaking exclusively to Iain Dale, Michael Cole insisted new evidence would one day emerge to prove his claims.
It's almost 20 years since Diana and Dodi Fayed died following a car crash in the Pont de l'Alma road tunnel in Paris.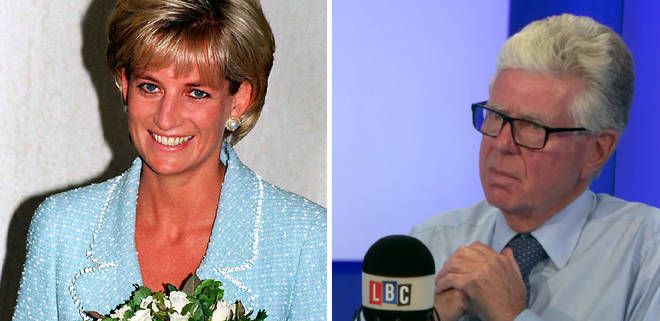 In 2008, an inquest ruled the pair were unlawfully killed due to the "gross negligence" of their driver, Henri Paul and the paparazzi.
The inquest jury also specified that Mr Paul's drink-driving and a lack of seat belts contributed to their deaths.
Mr Cole, however, still believes fresh evidence will one day emerge to prove his theories right.
He told Iain: "I still believe that given time and given a change of circumstances evidence will emerge.
"Still to this day stories do appear… these things sometimes do take a great deal of time look at Hillsborough, look at Bloody Sunday, look at how long it's taken to expose some of the scandals in sport.
"Eventually somebody's tongue will be loosened and whether they want to make a deathbed confession or whatever it is."
Watch the full interview below.