Iain Dale Tells Welsh First Minister: You're Ignoring Wales' Vote To Leave
5 December 2017, 17:06 | Updated: 5 December 2017, 17:16
Iain Dale accused Carwyn Jones of "completely ignoring" Wales' vote for Brexit after he suggested the whole of the UK should remain in the EU's customs union.
The Welsh First Minister appeared on LBC after the government's approach to the EU talks was labelled an "embarrassment" by Labour.
On Monday negotiations were thrown into turmoil after the DUP - which props up the minority Conservative Government in Westminster - responded angrily to a proposal for the Irish border.
During an urgent question in the Commons, Brexit secretary David Davis said Northern Ireland would not be left behind in the single market and customs union after Brexit.
In last year's referendum 53 per cent of Wales backed leaving the European Union.
But, Mr Jones rejected that necessarily meant leaving both the single market and customs union.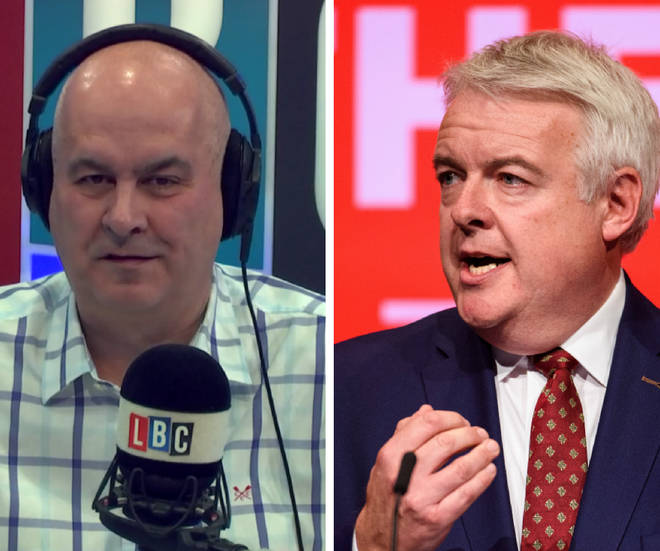 The Labour Welsh First Minister said: "That was never on the ballot paper.
"I remember Brexiters saying during the campaign we can be like Norway and that means having access to the single market.
"There are countries that aren't in the EU but are in the customs union; Jersey, Guernsey, Isle of Man are examples of that.
"You don't have to leave the customs union or the single market if you're going to leave the EU."
But, Iain did not accept that response as he told Mr Jones: "There was a Leave vote in Wales and you seem to be completely ignoring that."
To which the Labour politician responded: "People didn't vote for a shambles and they didn't vote for a mess, they didn't vote to see jobs disappear.
"Look, may preferred solution is to have a solution that works for the whole of the UK rather than having something different for Northern Ireland, different in Scotland - it should be the whole of the UK."
Watch the encounter above.