Iain Dale's Top 50 Liberal Democrats - 2015
21 September 2015, 17:41 | Updated: 25 August 2016, 12:07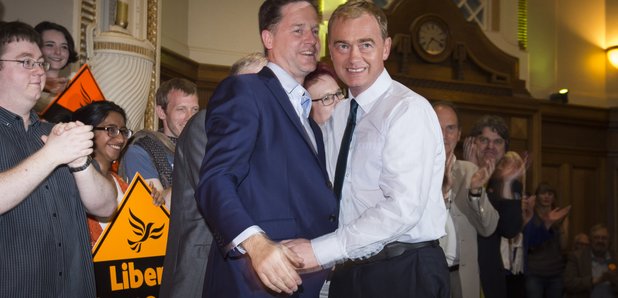 In the first of a series looking at the most influential political figures in Britain, Iain Dale gives his verdict on the Top 50 Liberal Democrats in 2015.
"Each year I convene three panels to compile lists of the Top 50 Liberal Democrats, the Top 100 People on the Left and the Top 100 People on the Right. Each list is published to coincide with the three party conferences. This is the eighth year I've been doing this, and a cursory look down the lists for 2007 shows how politics changes so quickly.
There are 19 new entries in this year's Liberal Democrat list, many of them close allies of the new party leader Tim Farron. The LibDem wipeout in May made this almost inevitable, although the changes are largely due to former MPs dropping off the list altogether rather than an amazng amount of new talent forcing its way onto the list.
Nick Clegg has only dropped three places, which may come as a bit of a surprise, but this list is all about influence, and it cannot be denied that Clegg will have an enduring influence over the LibDems, but also in the country. He's a bit like John Major in that he rations his public pronouncements so everyone pays attention when he decides to hold forth.
One of the big risers in this list is the leader of the Welsh LibDems, Kirsty Williams. The deputy leadership of the party was offered to her but she decided to concentrate on fighting the 2016 Welsh Assembly elections. Even if those don't go well, and they probably won't, she's one of the next generation of LibDem stars.
Many of the LibDem old guard are on the decline. Paddy Ashdown, for instance, has to fall this year even though he remains immensely popular. Vince Cable seems to have opted out of frontline politics and to have become a commentator, while Danny Alexander plummets 36 places and appears to have completely disappeared from view.
Tim Farron's challenge is to ensure that this time next year I still think it is worthwhile compiling a list of the Top 50 Liberal Democrats, because in all honesty you have to wonder if, after the May local, Welsh, Scottish and London mayoral elections, they will be in any way electorally relevant."
Iain Dale
The Top 50 Liberal Democrats
1. (+4 places from 2014) Tim Farron
Leader of the Liberal Democrats. It's his job to lead them back from eight MPs to the position they were in 2010.
2. (+28) Sal Brinton
President of the Liberal Democrats
3. (+5) Norman Lamb
The Health Spokesman lost to Tim Farron in the leadership election, but still has a lot to offer the party.
4. (-3) Nick Clegg
The former Leader of the Liberal Democrats may not be Deputy Prime Minister any more, but he's still an MP and a powerful voice behind the scenes.
5. (+20) Jim Wallace
Liberal Democrat leader in the House of Lords. A key party powerbroker and given the strength of the Lib Dems in the Lords, he could, it may be argued, be the most powerful Lib Dem politician in the land nowadays.
6. (+15) Kirsty Williams
Leader of the Welsh Liberal Democrats
Hugely impressive, she is said to have turned down the chance to be the party's new deputy leader. Will she stand for Westminster in 2020?
7. (+22) Willie Rennie
Leader of the Scottish Liberal Democrats. Rennie has a thankless jb and must be dreading the 2016 Scottish Parliament elections. The LibDems face wipeout.
8. (NEW) Greg Mulholland
Chair of the Parliamentary Campaigns Team. Highest new entry, and one of only eight Lib Dem MPs. A key early supporter of Tim Farron and very much in the same mould.
9. (-2) Lynne Featherstone
Lib Dem Peer-nominee and Spokesperson on Energy and Climate Change. Popular with activists, a stellar record as a minister on issues like gay marriage and FGM. Not sure the DECC portfolio will be a natural home for her, though.
10. (NEW) Ben Rich
Interim Chief of Staff to Tim Farron, Farron leadership campaign director. Will play a key role as Tim Farron's closest adviser. He has the ability to tell Farron when he's being a bit of a dick. His organisational abilities will be key.
11. (NEW) Jo Foster
Former special adviser to Nick Clegg, key role in Farron leadership campaign
Jo Foster is another close friend of Tim Farron and has in the past served the party well on the communications front. But can she be persuaded to join Team Farron in a permanent capacity?
12. (NEW) James Palumbo
Lib Dem Peer & major donor
Palumbo's influence and personality have become every more important. He is one of the few donors to remain true to the LibDems. When he calls LibDems pick up the phone very quickly.
13. (+9) Lord Newby
Lib Dem Chief Whip in the House of Lords
Newby is the power behind Jim Wallace's throne in the House of Lords.
14. (+26) Caroline Pidgeon AM
Lib Dem candidate for Mayor of London. Bright, funny, sassy, intelligent, she is by far the best candidate for London mayor the Lib Dems have ever had. But she's in for a tonking and knows it.
15. (+24) Tom Brake
Lib Dem Chief Whip. It comes to something when the LibDem Commons chief whip is rated as less important than the one in the Lords. Brake is popular in the party, if somewhat charismatically challenged.
16. (NEW) Baroness Kate Parminter
Lib Dem Deputy Leader in the Lords
One half of a LibDem power couple (married to Clegg donor/adviser Neil Sherlock) she is a popular member of the LibDem House of Lords leadership team. She also shadows DEFRA.
17. (+10) Baroness Susan Kramer
Lib Dem Peer & Economics Spokesman
Was seen as a good minister at the Department of Transport and will have a high profile in her new economics portfolio. Her public persona belies and wickedly cheeky sense of humour.
18. (-15) Paddy Ashdown
Former Lib Dem leader. Ashdown took one for the team by taking on the role in the last parliament as director of the LibDem general election campaign, where he proved a great leader of the troops. He will never entirely take a back seat, but is likely to speak out more on world affairs.
19. (-8) Sir Vincent Cable
Former Lib Dem Business Secretary. Whither Vince? He refused a peerage so people are asking what level of involvement will he continue to have. Could play a major role in realigning the left, as a bridge between Lib Dems and moderate Labour supporters.
20. (+6) Duncan Brack
Vice Chair Lib Dem Policy Committee, role in Farron leadership campaign
A popular LibDem backroom boy, who would make a great addition to the LibDem benches in the Lords. A former SPAD to Chris Huhne, he is an original thinker whose talents needs to be used to best effect.
21. (NEW) Catherine Bearder
Member of the European Parliament
22. (-18) David Laws
Former LibDem Schools Minister
23. (-1) Mark Pack
Editor, LibDem Newswire
24. (NEW) Ros Scott
Lib Dem Peer & former party president
25. (-7) Simon Hughes
Former deputy leader of the Lib Dems
26. (-13) Alastair Carmichael
Former Scottish Secretary, MP for Orkney & Shetland
27. (-18) Jo Swinson
Former Business minister
28. (NEW) Neil Fawcett
Deputy Chair of Federal Executive, key role in Farron leadership campaign
29. (NEW) Dorothy Thornhill
LibDem mayor of Watford, new peer

30. (+11) Caron Lindsay
Co-editor of LibDem Voice
31. (-1) Tim Gordon
Chief Executive of the Liberal Democrats
32. (NEW) Lindsay Northover
peer, former DFID minister, spokesperson on International Development
33. (NEW) Hilary Stephenson
Director of Elections
34. (-18) Julian Huppert
Former Lib Dem MP for Cambridge
35. (-25) Ed Davey
Former Secretary of State for Energy & Climate Change
36. (-1) Sir Ming Campbell
Former leader of the Lib Dems
37. (-4) Stephen Tall
Blogger, former Editor, Lib Dem Voice
38. (-36) Danny Alexander
Former Chief Secretary to the Treasury
39. (-33) Jonathan Oates
Former Director of Communications to Nick Clegg, new peer
40. (NEW) John Pugh
MP for Southport, Education spokesperson
41. (NEW) Austin Rathe
Head of Membership Services, Lib Dem HQ
42. (NEW) Mark Williams
Lib Dems' only Welsh MP, vice-chairman of the parliamentary campaigns team
43. (NEW) Jane Bonham-Carter
Lib Dem Culture Spokeswoman in the House of Lords
44. (NEW) James Gurling
Chair, Campaigns and Communications Committee

45. (-11) Gerald Vernon-Jackson
Head of the Lib Dems on the LGA
46. (NEW) Sarah Ludford
Lib Dem Peer, former MEP
47. (NEW) David Howarth
Former MP for Cambridge, role in Farron leadership campaign
48. (-3) Maajid Nawaz
Director of the Quilliam Foundation, former Lib Dem PPC
49. (-) Keith House
Leader, Eastleigh Council
50. (NEW) Merel Hussein-Ece
Lib Dem peer, spokesperson on equalities