Iain Shuts Down Lib Dem MP In Fiery Exchange Over May's Visit To Turkey
28 January 2017, 12:02 | Updated: 28 January 2017, 12:58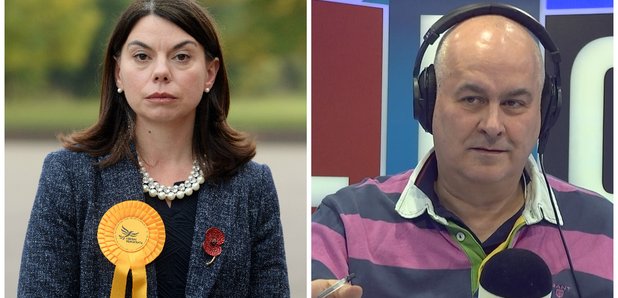 Iain Dale accused Sarah Olney of "rank hypocrisy" during this heated interview about Theresa May's visit to Turkey.
Filling in for Matt Frei, Iain Dale was discussing the Prime Minister's meeting with President Erdogan in Turkey on LBC this morning.
The presenter was speaking with Sarah Olney, Lib Dem MP for Richmond Park, on the subject, and asked whether she agrees with the visit.
The MP raised concerns about the morality of the meeting.
But Iain said the MP shouldn't be so quick to criticise Theresa May, as the former leader of the Liberal Democrats, Nick Clegg, made a visit to Turkey in 2012 to discuss trade deals.
He asked Ms Olney: "So was Nick Clegg right to lead a trade mission to Turkey when he was Deputy Prime Minister?"
The MP said it "depends on the context" and Iain replied: "Well the context is he went to Turkey to drum up trade for Britain, something you think Theresa May shouldn't be doing."
He went on: "Turkey was exactly the same. President Erdogan was in power. He was still administrating brutality to journalists and all the rest of it.
"So it was OK for a Liberal Democrat Deputy Prime Minister to go to Turkey, but it's not OK for a Conservative Prime Minister. That's what you're saying isn't it?"
The MP defended her stance by saying: "We're not in a strong position now to demand change on human rights in return for trade deals as we were before we decided to leave the European Union."
Iain said: "So you don't wish to criticise Nick Clegg for going at all then?"
He added: "See this is the rank hypocrisy we've come to expect from politicians. What's good for their own party isn't good for another.
"That's what I think most people will take from this conversation. That you're quite happy to have a go at your opponents for dealing with regimes that you don't want to deal with, and when it's pointed out to you that the former leader of your own party, the former Deputy Prime Minister, did exactly the same thing only a few years ago.
"You aren't willing to take that on board at all? I thought you were a different kind of politician than that."