IDS Lets Rip At Ivan Rogers' Resignation Email
4 January 2017, 18:02 | Updated: 4 January 2017, 18:05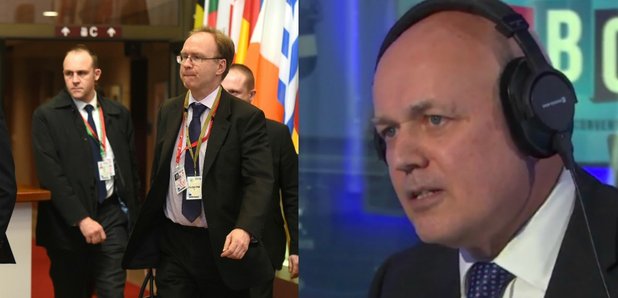 Iain Duncan Smith has a very scathing reaction to Sir Ivan Rogers' controversial resigination email, saying the former Ambassador to the EU knew exactly what he was doing when he wrote it.
Speaking to Iain Dale on LBC this evening, the prominent Leave MP made it quite clear that he blames our outgoing EU Ambassador for more than one leak.
Read: The Full Text Of Rogers' Blistering Email
First off, IDS told Iain that Rogers went public with the 10-year negotiation period for a post-Brexit trade deal.
"That was leaked, wasn't it?
"Are you accusing him of going public with it?"
The response from the former Pensions Secretary? A chuckle and "We've both been in this game long enough!"
Duncan Smith then outlined how he tackled the problem of leaks when in government. "The moment you go to email like this, to large circulation, you know what's going to happen to that.
"Even if you don't intend it.
"You'd have to be pretty naive to believe that if you send out an email like the one that went out in December or this one that's gone out now, going 'oh, well, I didn't intend it to go out' - oh come on, nobody out there believes it!"-