Israeli MP Calls Jeremy Corbyn "Anti-Semitic" In Explosive LBC Interview
25 September 2018, 19:31 | Updated: 25 September 2018, 19:34
An MP from the Israeli Labor Party has called Jeremy Corbyn an "anti-Semite" during an explosive LBC interview.
Ayelet Nahmias Verbin told Iain Dale British Jews felt "unsafe" at the prospect of the Labour leader becoming Prime Minister.
She made the stormy remarks from the Labour Party Conference in Liverpool.
Her party suspended relations with Mr Corbyn in April over claims he had allowed "anti-Semitic statements and actions".
On Tuesday shadow foreign secretary Emily Thornberry called for Labour to kick out "sickening individuals" who use the party's "legitimate support for Palestine as a cloak and a cover for their despicable hatred of Jewish people".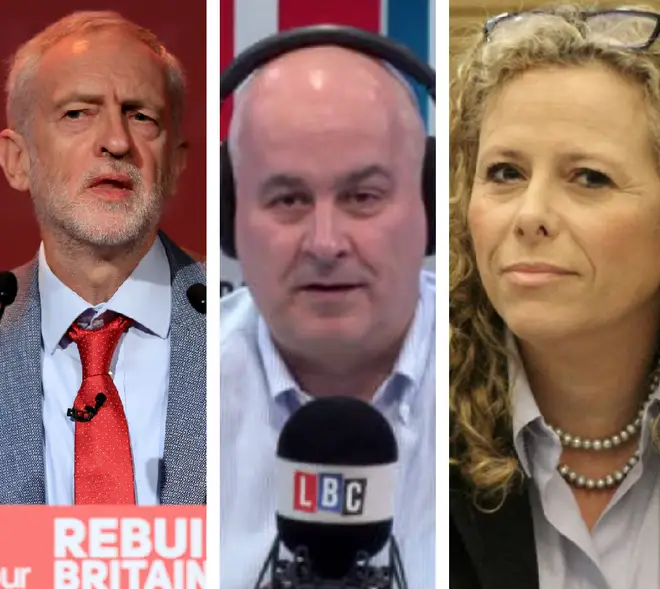 Ms Nahmias Verbin said she had attended the conference to "strengthen" ties with Labour supporters and politicians.
But, she ripped into the party's leadership for "failing to fight anti-Semitism from within".
Iain asked the Israeli politician whether she believed Mr Corbyn was anti-Semitic himself.
She replied: "Unfortunately and sadly I believe he is an anti-Semite himself.
"He is really not concerned with being balanced when it comes to Israel-Palestine issues.
"Maybe he is anti-racist, but he is an anti-Semite.
"The wonderful Jewish British community, who really want to stand strongly with two identities do feel unsafe when it comes to the option that Mr Corbyn should go into Number 10."
You can hear the explosive interview above.