The Vamps' James McVey Comforts Brave 13-Year Old Bullied At School
4 September 2018, 21:31
The musician and anti-bullying ambassador took a call from 13-year old Eve who had been relentlessly bullied on social media.
As 10 million children go back to school this week, a YouGov poll for the Diana Award charity found that almost half of those surveyed are worried about returning to school after the summer break because of concerns about bullying.
Other findings from the 1000 young people surveyed include 40 per cent saying they have been bullied for their academic ability, while 22 per cent have changed school because of bullying problems.
James McVey, the guitarist for The Vamps and an anti-bullying ambassador for the Diana Award, joined Iain Dale in the studio to discuss the findings and to take speak to callers about their experiences of bullying.
Towards the end of the hour, 13-year old Eve rang James in tears to share her experience.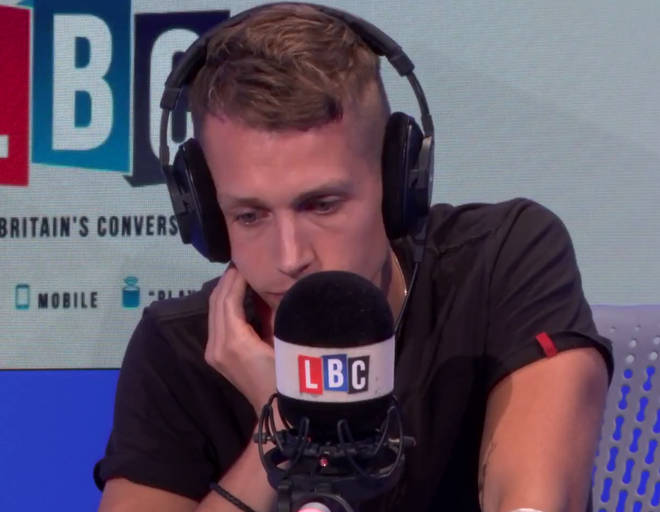 She asked: "James, how do I build up my confidence? I've been bullied quite badly [on Snapchat.] I get threats - wanting to punch me. I know her in real life."
James said: "If you're friends in the flesh, are you able to speak to them about that off social media?"
Eve replied: "She's not my friend anymore... I did try to speak to her, but it didn't go too well. She said really mean stuff about me. I've moved schools and talked to the police about it."
James continued: "You shouldn't feel it's anything you're doing wrong. People don't recognise the severity of what they're saying."
Iain added: "Eve, right at the beginning of the conversation you asked how can i become more about confident, I would say to you, that just by picking up the phone and phoning in to a national radio station and talking to one of your heroes, you have an inner confidence that you haven't recognised."