LGBT Campaigner Detained In Moscow Got Into Russia On Football Fan Visa
14 June 2018, 17:24 | Updated: 14 June 2018, 17:29
A British LGBT campaigner who was detained by Russian police in Moscow moments before the start of the World Cup says he managed to get into the country on a football fan visa.
Peter Tatchell took part in a one-man protest close to Red Square on Thursday to raise awareness of the human rights abuses against gay men in Chechnya.
He was holding a sign which said: "Putin fails to act against Chechnya torture of gay people."
But Mr Tatchell was detained by police, who told him he was taking part in an illegal protest.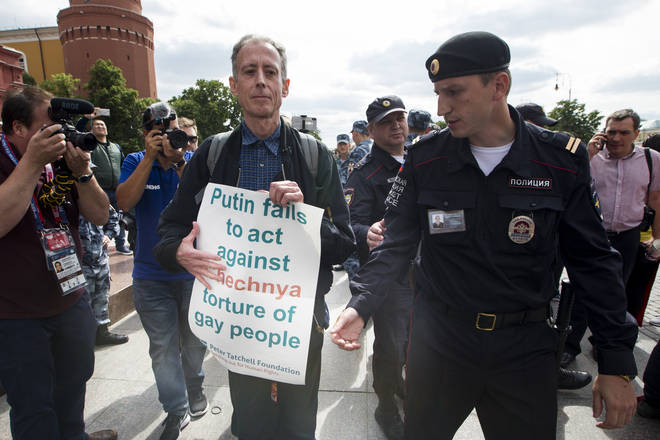 The 66-year-old said he was "amazed" he had even managed to make it back into the country, having been arrested on two previous trips.
Speaking to Iain Dale shortly after his release, he said: "I got a visa as a football fan.
"I applied for a fan ID to watch the England v Tunisia match on Monday - that's how I got my visa.
"It is amazing because I've been to Russia five times previously, I've twice been arrested and once beaten almost unconscious by neo-Nazis in apparent collusion with the Moscow police.
"So I must be on their radar but for whatever reason they let me in again."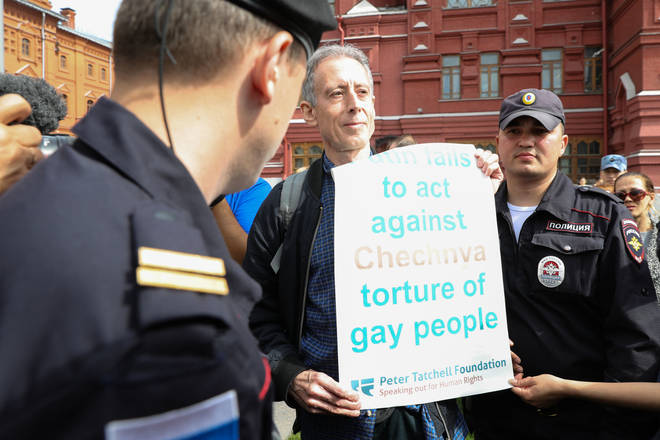 Mr Tatchell has been told he is required to appear in court on 26 June for violating Federal Law 54 and Presidential Decree 202, which prohibit all protests near the Kremlin and during the World Cup.
He says he has written a letter to the Chief of Police of Kitay-Gorod police district, requesting his court appearance is voided on the grounds he flies back to the UK on 18 June.
Last year, the Novaya Gazeta newspaper reported that more than 100 gay men have been locked up and tortured in a homophobic campaign in the Russian republic of Chechnya.
Chechen leader Ramzan Kadyrov denies claims that gay men are killed in his country, claiming that no gay men even exist there.
Read more on this story here.