Lord Lawson Is Adamant There's "No Chance" Of UK Getting A Good Brexit Deal
19 October 2017, 17:33
A former Chancellor has told LBC there is "no chance" of Britain securing a good deal with the European Union after Brexit.
Lord Lawson said negotiations had made no progress and the EU was trying to "screw as much money" out of Britain as possible.
He told Iain Dale there was "nothing wrong" with Britain reverting to World Trade Organization terms, adding "that's what we do with the rest of the world".
The vocal Brexiteer was speaking as Angela Merkel raised hopes of Brexit talks moving on to trade in December.
But, Lord Lawson said he did not think that was likely to be the case and has now signed a letter to Theresa May urging the PM to prepare for a "no deal" scenario.
He told Iain: "There has been no real progress so far and I don't expect any real progress.
"What they are after is first of all try and screw as much money out of us as they can."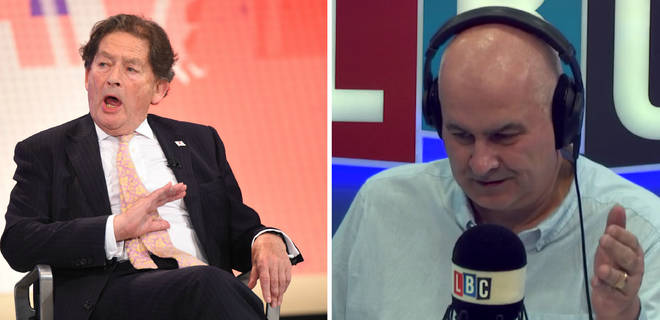 The Conservative grandee added: "They are also trying to ensure that we get a very bad deal, if we get a trade deal at all.
"They're afraid if we get a good deal this will encourage other countries to think about leaving the European Union.
"I see no chance of getting a good trade deal."