Never Say Never? Nigel Farage Won't Rule Out Leading Ukip At Some Point
5 October 2016, 16:36 | Updated: 5 October 2016, 16:57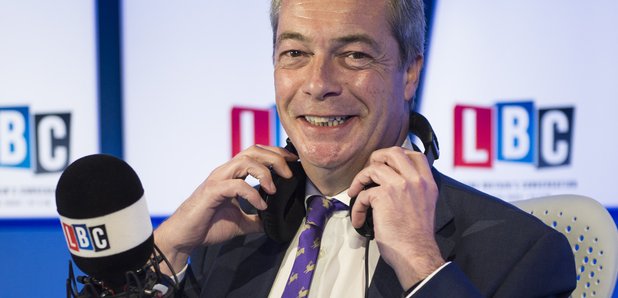 ...but insists he won't be running in this leadership election.
Speaking to Iain Dale this afternoon as the race to replace Diane James began, Nigel was keen to make clear he won't be standing this time out.
"Can we be 100% sure that there is no chance of you being persuaded by anybody to come back in the next few months and keep the leadership?" asked Iain.
"You can be 100% sure," replied Farage.
"A thousand pounds to Global's Make Some Noise charity appeal if you do?"
"You can put a couple of noughts on the end, I don't care!" Farage told Iain with a laugh.
But would he rule out ever leading Ukip in the future?
"It is not my intention," he said. "I'm getting a bit old for that sort of thing."
"That's not quite ruling it out, is it?" asked Iain.
"Only a fool ever rules anything out, ever in the future, but it's certainly not my intention," said Nigel. "Things in the future can change, but it is not my intention.
"What Diane James saw in those 18 days was the fact that being leader of Ukip meant she would not have a life of any kind at all.
"We have had such unpleasantness, frankly hatred, whipped up against us, entirely falsely. You're frankly not free to walk down the street.
"It takes somebody with tremendous courage to do that job."