Nigel Farage Tells LBC New Leader Henry Bolton Gives Ukip "Hope"
29 September 2017, 16:29 | Updated: 29 September 2017, 16:52
Nigel Farage has told LBC Ukip has been given "hope" after the party elected Henry Bolton as its new leader.
In a shock victory, the former solider beat anti-Islam campaigner Anne-Marie Waters with almost 30 per cent of the voter.
The former Ukip leader described Mr Bolton as a "a guy of achievement and a man of substance".
He told Iain Dale the new leader had his "full support" and would be on hand to offer any advice.
Mr Farage said: "He got my vote that was no doubt at all. I didn't intervene directly in the election campaign but I did make it pretty clear without saying so that if we lurched towards the BNP-type position that I wouldn't stay part of it and nor would anybody else.
"There was a time when no one knew who I was, so the fact that he is not well known is not a disqualification at all.
"This is a man with a truly remarkable background. He was the top candidate at Sandhurst, he's done some remarkable things in the British Army, equally has done some remarkable things in the British police force.
"He's a guy of achievement and he's a man of substance."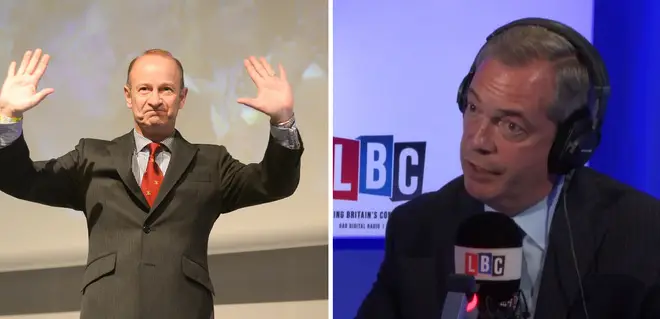 Who Is Henry Bolton? Meet Ukip's New Leader
Although his upbeat outlook, Mr Farage told Iain he now wanted the new leader to sort out Ukip's NEC - as he slammed the party for being "run by idiots".
He said: "He has absolutely got to wrestle control from the weekend warriors and make sure he can run the party, direct the party.
"My enthusiasm for Ukip has been hovering around about close to zero for the past year but with his election I'm more than prepared to help in any way I can."
Asked about the future of the controversial Ms Waters within the party, Mr Farage responded: "I very much hope she leaves today."