No Delay To Brexit Date Even If There's No Deal, Dominic Raab Says
19 September 2018, 20:21 | Updated: 24 September 2018, 14:29
Brexit will not be delayed beyond March 29th 2019 even if there is no deal with the EU, Dominic Raab has told LBC.
The Brexit Secretary confirmed extending Article 50 had been discussed by the Cabinet - but insisted there was "no need".
"We don't need to kick the can down the road, we need decisions," he told Iain Dale during an exclusive LBC phone-in on Wednesday.
His remarks follow an earlier LBC interview in which the peer who wrote Article 50 insisted there was still time to hold a second referendum.
Lord Kerr believes a so-called People's Vote would be able to take place by suspending the official date Britain is set to depart the bloc.
Mr Raab, however, insisted Britain would be leaving in March 2019 whether there was a deal in place or not.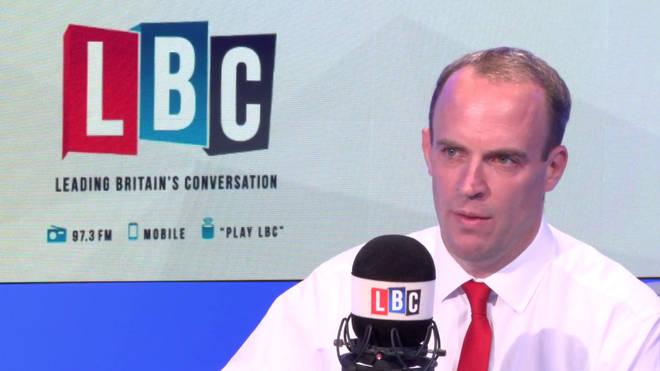 He told Iain: "What we need now is decisions, we don't need to kick the can down the road anymore, we need decisions.
"We've set out our proposals, they're ambitious, they're pragmatic, the EU has to move.
"I don't see why extending Article 50 would make any of the difficult decisions any easier to grapple with - so let's actually cease this.
"We've still got a couple of months to hammer out the detail but I don't think we can duck this any longer."
Asked directly whether Britain will be leaving the EU on March 29th 2019 even if there's no deal in place, Mr Raab simply replied: "Yes".
You can watch the full LBC phone-in below: