Theresa May Can't Guarantee Rights Of EU Citizens If There's No Brexit Deal
10 October 2017, 17:49 | Updated: 11 October 2017, 07:42
After being asked three times if EU citizens would be able to stay in the UK in a "no deal" outcome, Theresa May couldn't give an answer.
Theresa May has announced her government is making plans for a no deal Brexit outcome.
Live in the LBC studio, Iain Dale asked the Prime Minister three times if she could guarantee the status of the 3.2 million EU citizens currently residing in the UK.
She couldn't.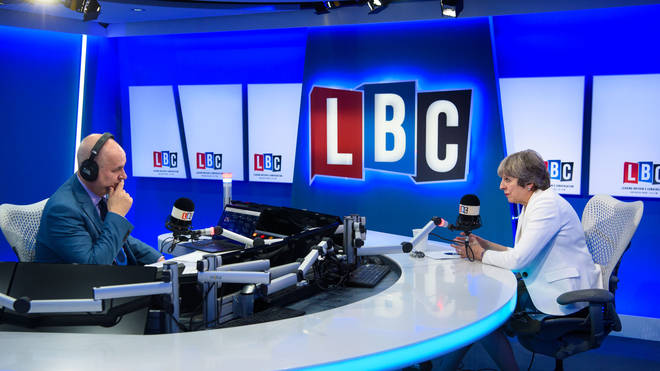 "Can you guarantee that Nina, and all the millions of people like her, would be able to stay with all the rights that they enjoy at the moment?"
"We've looked at the rights of people staying here if we get a deal..."
"We're talking about their rights in a no deal."
"The government across the board is doing work on that."
"But why can't you just say Prime Minister? We talk about it all the time on the programme, and every time my switchboard lights up. Why can you not sit down here and say of course you will be able to say under any circumstance?"
"Well I'm going to get a bit technical here Iain."
"If you must."
"There are certain rights that pertain to someone that is an EU citizen here in the UK by virtue of being an EU citizen. Thinks like the benefits that they're able to access in their home country and the UK.
"Some of those things would fall away in a no deal scenario. I want EU citizens to stay here in the UK and enable those people to stay.
"We're not going to be throwing EU citizens who are currently here in the UK out of the UK in the future."
Watch the whole clip above.