Theresa May Laughs Off Jacob Rees-Mogg Cabinet Job Suggestion
19 July 2017, 16:44 | Updated: 7 November 2017, 14:23
Theresa May has laughed off a suggestion to hand Jacob Rees-Mogg a job in her Cabinet.
The Prime Minister sat down for a wide-ranging interview with Iain Dale at Downing Street on Wednesday.
Eccentric Tory backbencher Mr Rees-Mogg has become somewhat of an internet sensation over recent months - proving particularly popular among younger voters.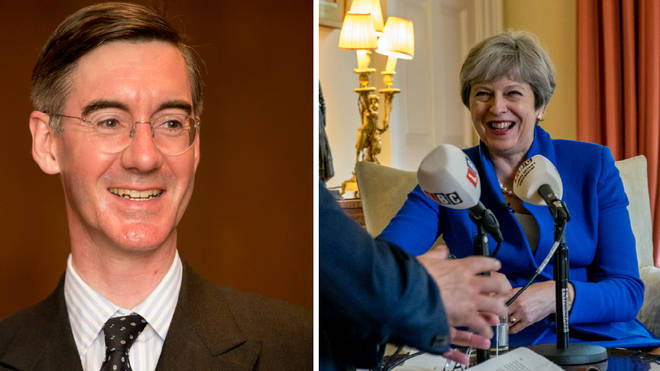 Read More: Jacob Rees-Mogg - History Proves Backbenchers Don't Become Leaders
He's also seen his odds slashed to become the next leader of the Conservative Party.
So, would the Prime Minister consider giving Mr Rees-Mogg a Cabinet job? That's exactly what Iain asked her.
After a brief chuckle, Mrs May said: "Jacob is a great colleague and he makes a huge contribution in the House of Commons.
"It's always worth listening to Jacob's contribution in the House of Commons because he is a great history buff and you learn an awful lot when you listen to him."
Hear the Prime Minister's full interview with LBC here.