Iain Dale's 100 Most Influential People On The Left - 2015
28 September 2015, 16:03 | Updated: 25 August 2016, 12:07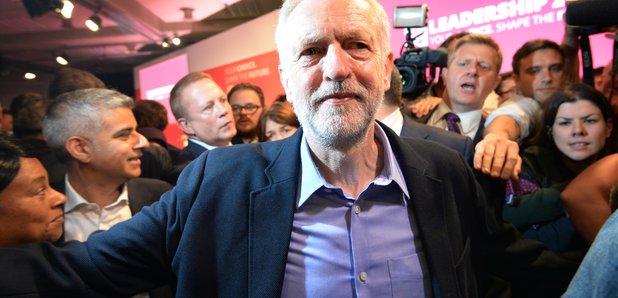 In the second of a series looking at the most influential political figures in Britain, Iain Dale gives his verdict on the Top 100 people on the Left in 2015.
"Each year I convene three panels to compile lists of the Top 50 Liberal Democrats, the Top 100 People on the Left and the Top 100 People on the Right. Each list is published to coincide with the three party conferences. Today, it's time to look at the Left."
Iain Dale
The Top 100 Most Influential People On The Left
1. (NEW) Jeremy Corbyn
Leader of the Labour Party. There is no doubt that Jeremy Corbyn's election to Labour's leadership has changed the political weather. He's galvanised the Labour left in a way no one has since Tony Benn or Ken Livingstone. But can he stick to his principled agenda without compromising Labour's chances of electoral success?
2. (+6) Nicola Sturgeon
First Minister of Scotland. She's taken to power like a duck to water and she's without doubt the first lady of the left in the UK. Her popularity in Scotland is unchallenged and many in England wish they could vote for her. After next May's elections she's likely to be even more powerful.
3. (+32) Tom Watson
Deputy Leader of the Labour Party. Some wonder how long it will be before Watson resigns from this position, like he has from all the other positions of power he has ever held. This is to underestimate him. He protests that he has no interest in eventually becoming leader, but one wonders how he will build and then use his new power base.
4. (NEW) John McDonnell
Shadow Chancellor of the Exchequer. Possibly the most unlikely appointment since Caligula made his horse a senator. McDonnell and his unique brand of economics are loathed politically by almost the entire Parliamentary Labour Party. How long will their patience last?
5. (-3) Len McCluskey
General Secretary, UNITE. Money talks and Len McCluskey has a lot of it to distribute. Jeremy Corbyn may have a lot in common politically with Len McCluskey but can he persuade the UNITE leader to open his wallet? McCluskey won't want to throw good money after bad, and will certainly exact a price for his munificence.
6. (+75) Simon Fletcher
Chief of Staff to Jeremy Corbyn. One of the few people with executive experience in Jeremy Corbyn's inner circle, Fletcher performed the same role for Ken Livingstone when he was Mayor of London. His performance in this role will in part determine Corbyn's chances of success.
7. (+36) Angela Eagle
Shadow Business Secretary. The Shadow Chancellor who never was, Angela Eagle may turn out to be one of the most important voices in the shadow cabinet. She's popular and perfectly capable of saying 'no' if she won't go along with something.
8. (+50) Rosie Winterton
Chief Whip. It's rumoured that she conducted the reshuffle more or less alone after Jeremy Corbyn made the decision about John McDonnell. She will have the job from hell trying to keep the various factions of the PLP together, but if anyone can do it, she can.
9. (NEW) Hilary Benn
Shadow Foreign Secretary. One of the great survivors of modern politics, Hilary Benn is popular amongst his colleagues and is more likely to be able to adapt to the new regime than most, and is likely to stand up to any excesses of the Corbyn leadership with both determination and grace.
10. (NEW) Neale Coleman
Director of Policy. A massive appointment for Jeremy Corbyn, and possibly the only one welcomed by all sides of the party. Coleman was a key figure in the Livingstone mayoralty and was so impressive that Boris Johnson kept him on.
11. (+1) Harriet Harman
Former Deputy Leader of the Labour Party
12. (+28) Iain McNicol
General Secretary of the Labour Party
13. (+7) Owen Jones
Guardian columnist
14. (+8) Sadiq Khan
Labour candidate for Mayor of London
15. (_+29) Dave Prentis
General Secretary of UNISON
16. (-12) Yvette Cooper
Former Labour leadership candidate
17. (+17) Sir Paul Kenny
General Secretary of the GMB
18. (+62) Maria Eagle
Shadow Defence Secretary
19. (NEW) Seema Malhotra
Shadow Chief Secretary to the Treasury
20. (+51) Diane Abbott
Shadow International Development Secretary
21. (-16) Andy Burnham
Shadow Home Secretary
22. (NEW) Lord Charlie Falconer
Shadow Justice Secretary
23. (+2) Frances O'Grady
General Secretary, TUC
24. (NEW) Jon Trickett
Shadow Communities Secretary
25. (+39) Lisa Nandy
Shadow Energy & Climate Change Secretary
26. (NEW) John Healey
Shadow Minister for Housing
27. (+52) Gloria de Piero
Shadow Minister for Youth Engagement
28. (+40) Owen Smith
Shadow Work & Pensions Secretary
29. (NEW) Alicia Kennedy
Labour Peer
30. (NEW) Heidi Alexander
Shadow Health Secretary
31. (-12) Gordon Brown
Former Prime Minister
32. (-11) Polly Toynbee
Guardian Columnist
33. (-26) Chuka Umunna
Former Shadow Business Secretary
34. (NEW) Kat Fletcher
Political Adviser on stakeholder engagement to Jeremy Corbyn
35. (-9) Alex Salmond
SNP Foreign Affairs Spokesman
36. (+5) Stella Creasy
Former deputy leadership candidate
37. (NEW) Ken Livingstone
Former Mayor of London and LBC presenter
38. Cat Smith
Labour MP for Lancaster & Fleetwood
39. (NEW) Andrew Murray
Political Director of UNITE
40. (-4) Carwyn Jones
Welsh First Minister
41. (NEW) Kezia Dugdale
Leader of the Scottish Labour Party
42. (NEW) Richard Murphy
Economist
43. (NEW) John Cryer
Chair of the Parliamentary Labour Party
44. (NEW) John Woodcock
Chairman of Progress
45. (-22) Michael Dugher
Shadow Culture, Media & Sport Secretary
46. (-26) Tony Blair
Former Prime Minister
47. (+18) Liz Kendall
Former leadership candidate
48. (-39) Rachel Reeves
Former Shadow Work & Pensions Secretary
49. (+14) Luciana Berger
Shadow Mental Health Minister
50. (+35) Lucy Powell
Shadow Education Secretary
51. (+19) Dan Jarvis
Labour MP for Barnsley
52. (+3) Caroline Lucas
Green MP for Brighton Pavilion
53. (NEW) Annaliese Midgley
Deputy Chief of Staff to Jeremy Corbyn
54. (-30) Tristram Hunt
Former Shadow Education Secretary
55. (NEW) Jim Kennedy
Chairman of Labour's NEC
56. (NEW) Mhaira Black
SNP MP for Paisley & Renfrewshire South
57. (+10) Jason Cowley
Editor, New Statesman
58. (-13) Helen Lewis
Deputy Editor, New Statesman
59. (NEW) Jenny Formby
Political Director, UNITE
60. (NEW) Katherine Viner
Editor, The Guardian
61. (NEW) Jon Lansman
Editor, Left Futures
62. (NEW) John Swinney
SNP Deputy First Minister of Scotland
63. (NEW) Angus Robertson
Leader of the SNP in Westminster
64. (+11) Lord David Sainsbury
Philanthropist & Labour donor
65. (-6) Kevin Maguire
Assistant Editor, Daily Mirror
66. (-36) Keith Vaz
Chairman, Home Affairs Select Committee
67. (-45) Jon Cruddas
Labour MP for Dagenham
68. (NEW) Luke Akehurst
Secretary, Labour First
69. (+24) Chris Bryant
Shadow Leader of the House of Commons
70. (-12) Mark Serwotka
General Secretary, PCS
71. (NEW) Mick Cash
General Secretary, RMT
72. (NEW) Kevin Slocombe
Press Secretary to Jeremy Corbyn
73. (NEW) Paul Mason
Economics Editor, Channel Four News
74. (-23) Simon Danczuk
Labour MP for Rochdale
75. (-7) Alan Johnson
Former Home Secretary
76. (-4) Richard Leese
Leader of Manchester City Council
77. (-) John Mills
Chairman of JML & party donor
78. (NEW) Lloyd Embley
Editor, Daily Mirror
79. (NEW) Matt Wrack
General Secretary, FBU
80. (-33) George Galloway
Respect London mayoral candidate
81. (NEW) Baroness Angela Smith
Labour leader in the House of Lords
82. (-23) Jonathan Ashworth
Shadow Minister without portfolio & NEC member
83. (NEW) Pat McFadden
Shadow Europe Minister_
84. (NEW) Vernon Coaker
Shadow Secretary of State for Northern Ireland
85. (NEW) Will Straw
Executive Director, In Campaign
86. (-33) Yasmin Alibhai-Brown
Columnist, The Independent
87. (NEW) Sian Berry
Green Party London mayoral candidate
88. (-55) Nick Pearce
Director, IPPR
89. (NEW) Clive Lewis
Labour MP for Norwich South
90. (-4) Natalie Bennett
Leader, Green Party
91. (NEW) Wes Streeting
Labour MP for Ilford North
92. (NEW) Neil Kinnock
Former Leader of the Labour Party
93. (+5) Humza Yousaf
SNP Minister for External Affairs
94. (NEW) Jess Phillips
Labour MP for Birmingham Yardley
95. (NEW) Stuart Hosie
Deputy Leader of the SNP in Westminster
96. (NEW) Keir Starmer
Labour MP for Holborn & St Pancras
97. (NEW) Stephen Bush
Editor of the New Statesman 'Staggers' blog
98. (NEW) Jim McMahon
Labour leader on the LGA
99. (+1) Leanne Wood
Leader of Plaid Cymru
100. (NEW) Ben Chacko
Editor, Morning Star