Tory MP: I Was Slapped In The Face For Being A Black Conservative
14 November 2017, 18:38 | Updated: 14 November 2017, 19:30
Tory MP Kemi Badenoch has told LBC she was once "slapped in the face" for being a black Conservative.
The MP for Saffron Walden was speaking after Labour's Emma Dent Coad apologised for writing a "racist" article about a London Assembly member.
In a blog piece in 2010, the MP for Kensington labelled Shaun Bailey, who was standing as a candidate in Hammersmith at the time, as a "token ghetto boy".
There have now been calls for Labour to remove the whip from Ms Dent Coad with Ms Badenoch joining fellow Tory MP James Cleverly in writing an open letter to Jeremy Corbyn
Labour's Clive Lewis has also faced criticism after he suggested Conservative MPs were unable to fight racism.
In a tweet the MP wrote: "If you think you can fight racism and be in the Tory party then I guess this conversation isn't going to go very far".
Ms Badenoch told Iain Dale she had previously come under attack for supporting the Tories and being black.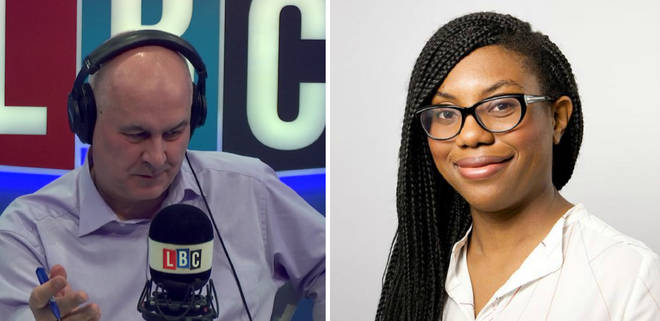 She said: "If there is any abuse that I have had it has been about being a black Tory.
"I got that when I stood in Brixton as a parliamentary candidate usually from Labour supporters who would say things like 'after everything we've done for you'."
She continued: "And there was an unfortunate incident where I got slapped in the face by a woman at a charity event who just couldn't accept that someone like me could be black.
"There is a definition of black that they feel has to be poor, oppressed, not very smart, can't speak properly, and anyone who defies them things [they say] 'oh you're not really black'.
"It's really offensive."