Caller Accuses Iain Dale Of Taking Bribes From Hillary Clinton To Talk Down Russia
22 December 2017, 17:48 | Updated: 22 December 2017, 18:41
One caller's wild accusation for Iain Dale after he suggested that the UK should be wary of the Russian government.
After Foreign Secretary Boris Johnson and his Russian counterpart Sergei Lavrov clashed during a rare visit to Russia, LBC's Iain Dale was exploring whether it was possible to salvage our relationship with Russia considering their track record on issues like human rights.
Jazz phoned up to encourage closer ties between the UK and Russia and for a while things were going fine.
Jazz argued that 85% of Russian citizens approved of Vladamir Putin and said it would be "nice if we had an approval rating on a prime minister."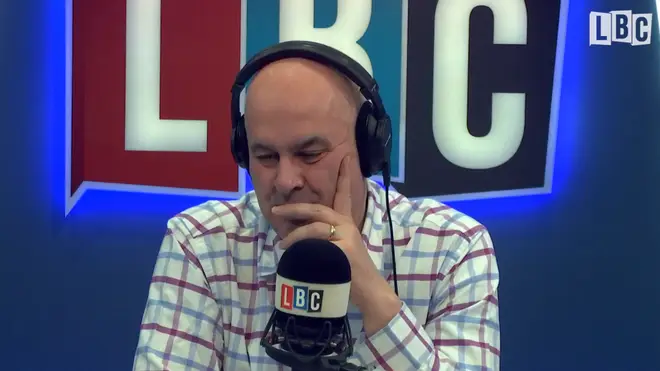 Iain argued that Hitler probably had an approval rating of 95%. When Jazz asked if he was genuinely comparing Putin and Hitler Iain argued that "they are both dictators." When Jazz suggested that Putin doesn't go around killing people, Iain responded by saying that "he goes around killing journalists."
Things started to go a bit haywire when Jazz suggested that Boris Johnson had admitted that the UK had been unable to find any Russian interference in the UK government's activity. Iain corrected him by pointing out that Johnson had said that the investigation "hadn't been successful."
Jazz then suggested that "everyone who keeps going on about this is taking a cheque from someone." Iain encouraged Jazz to explain who he thought was paying him.
Jazz suggested it was "probably the Hillary Clinton camp or something like that." Iain asked him to prove his allegation, he could not.
Both Iain and Jazz agreed that it would be nice to have better relations with the Russians. But Iain qualified his statement by quoting Ronald Reagan, "trust but verify."
The allegation of bribery was withdrawn before the conversation ended.