After Islamophobic Accusations, Zac Admits Campaign Against Sadiq Was "Clumsy"
3 November 2016, 18:11 | Updated: 3 November 2016, 18:13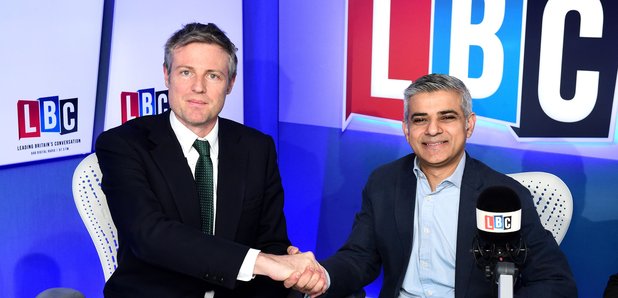 After being accused of Islamophobia during his Mayoral campaign against Sadiq Khan, Zac Goldsmith admits his campaign was "clumsy" but accuses the media of misrepresenting him.
"I believe the campaign was misrepresented in the press," Zac told LBC's Iain Dale. "I thought it was unfairly represented. I've been accused of being Islamophobic which I think is absurd. Half of my family are Muslims!"
Iain interrupted him: "But you let your campaign run away in a certain direction, didn't you?"
"That's what I regret," answered Zac. "We never accused Sadiq Khan, ever, even indirectly, of being an extremist.
"But we said he had shared platforms with extremists and that that was opportunistic."
Goldsmith, who's stood down as Richmond Park MP in the wake of the Heathrow expansion decision, insisted it was a "legitimate question" that he raised about current Mayor Sadiq Khan.
"I think it is illegitimate to accuse some of being a racist or an Islamophobe for asking those questions."
"The question is should I have raised that stuff or not. I think I should have done.
"I don't regret that. I regret how that was portrayed."