Iraqi Caller Explains Why His Country Is Worse Off Since The Fall Of Saddam
8 August 2017, 14:57 | Updated: 8 August 2017, 15:01
Saddam Hussein's regime collapsed in 2003 in the wake of an invasion by the West, but this Iraqi caller told LBC the intervention had left his country worse off.
Hossam fled Iraq back in 2001 after the United Nations imposed sanctions against the former Iraqi President.
He was speaking as it was revealed the number of migrant arrivals to Italy had fallen dramatically in July.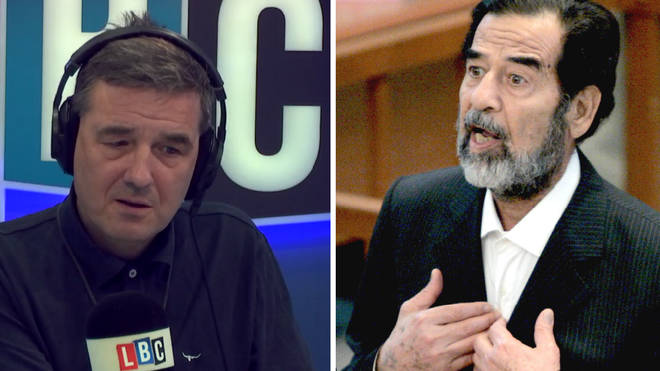 The interior ministry said 11,193 arrivals had been registered in July, compared with 23,552 in July 2016.
Hossam stated that many were fleeing the Middle East because of the "consequences" of the West's intervention and those countries must take "full responsibility".
Speaking about his own experiences, the LBC caller told Ian Payne how Iraq had descended into chaos since the fall of Saddam Hussein.
"Saddam was bad, but now it's worse," he said. "We have poverty, unemployed people, we have corruption from the Government."
He continued: "I left Iraq because of the poverty, because of the United Nations when they made [economic] limitations on Iraq because of Saddam Hussein.
"Everyting was a lie at the end because there were no chemical weapons, there was no mass destruction.
"I think the countries who were involved in this should take full responsibility to solve these immigrant issues."
In reflection, Ian ended the call saying: "It's just another example of something where the older I get the more I'm convinced that intervention just creates more havoc."