Neighbours Forced Latvian Caller To Move Home With Post-Brext Vote Abuse
31 July 2017, 18:09 | Updated: 31 July 2017, 18:27
Latvian-born Eugene called LBC to reveal the shocking extent of racial abuse he'd received since Britain voted to leave the European Union.
The caller said he and his Lithuanian wife had been forced from their home because of numerous verbal attacks from their neighbours since June 2016.
He was speaking as Number 10 confirmed freedom of movement in Britain will end once the UK officially leaves the EU in March 2019.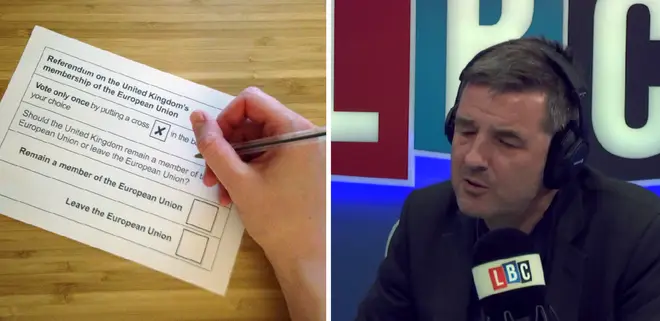 The comments come after days of rows from ministers about migration to the UK after Brexit.
A spokesman for the Prime Minister said it was "wrong" to suggest free movement will "continue as it is now" after the two-year talks are up.
However, Eugene told Ian Payne the level of uncertainty he felt since the vote to Leave was "absolutely incredible" despite living in the UK for almost 12 years.
"We've had a lot of abuse from our neighbours since the referendum, so we even had to sell on our property and move on somewhere else," he said.
"They kept shouting at us 'we hate you, go home' that type of thing. Police couldn't help us because there was a lack of evidence so we decided we can't take this anymore."
Ian asked why the caller thought he had been targeted.
"I think they think we're too good," Eugene continued. "I run my own business, I'm doing good, my Mrs has a good job, she's doing really good at that.
"They couldn't understand how come two immigrants could do so well [and] afford the same houses as they had."
Read more: Free movement of people to end in March 2019, PM's spokesman says