James O'Brien's Caller Tells Of Moment He Was Shot Attacking A Bank Robber
18 September 2018, 12:05 | Updated: 18 September 2018, 14:04
This caller to James O'Brien had one of the most remarkable stories you'll ever hear - how he was shot in the head when he tried to save his wife from an armed bank robber.
James was discussing MP Tobias Ellwood's call for more people to run towards terrorists than than away from them.
Tommy called to reveal the moment he became a have-a-go hero, when he was in a bank as two armed robbers stormed in.
He revealed his instincts took over and he hit one of the bandits.
That led him to be shot in the head by an air pistol. As the gunman aimed the barrels at his wife, he told them to shoot her, saying "She's nothing to do with me."
The bullet is still lodged in the bottom of his brain, as doctors are worried that removing it would cause facial paralysis.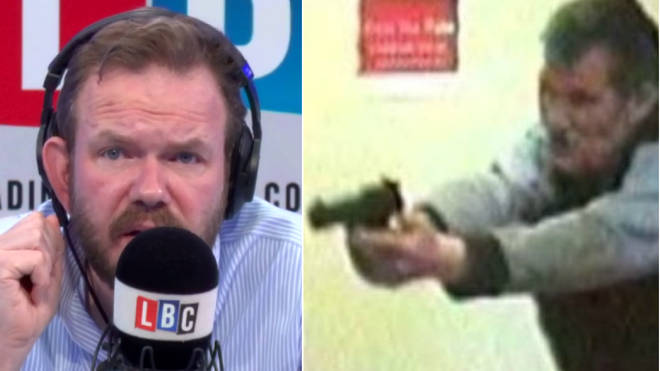 Speaking of his bravery, he told James: "I'm not a scared person, but that was a terrifying situation we were put in.
"You always wonder what you'd do, but you don't know until it happens. I didn't have time to think.
"Any able man, I hope, would try to protect their wife."
James was full of praise for Tommy, telling him: "You've managed to tell the story without making anyone listening think that you're showing off or boasting."
This was an incredible call - watch it at the top of the page.