James O'Brien blasts 'despicable' Boris Johnson for using Ukraine visit to 'burnish tattered reputation'
24 January 2023, 12:33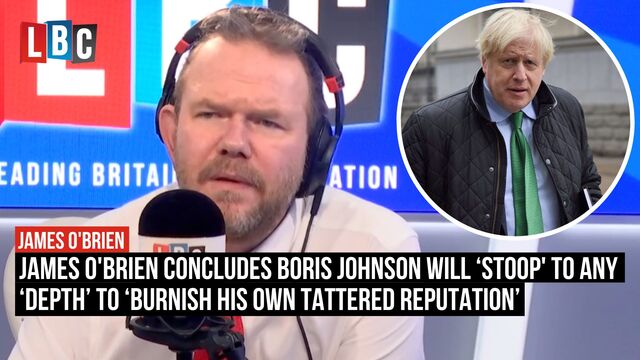 James O'Brien says there's 'no depth to which Boris Johnson will not stoop'
The former Prime Minister is attempting to "distract attention from the latest scandals in which he finds himself engulfed", said James O'Brien, after Boris Johnson made a surprise visit to Kyiv two days ago.
James O'Brien had some brutal words for Boris Johnson during his show today, saying "there is no depth to which he will not stoop", and called him a "despicable" man for going to Ukraine in the middle of yet another scandal.
He jabbed at the former Prime Minister over claims that BBC chairman Richard Sharp helped him to secure an £800,000 loan, something which Mr Johnson said was "absolute nonsense".
Yesterday, James told his listeners that Mr Johnson was using Ukraine as a "dead cat" to distract attention away from the "travails and tribulations at home" - "so overarching is the man's ego!".
READ MORE: James O'Brien breaks down 'biggest milestones in national decline' after Nadhim Zahawi tax row
James condemned "the contagion of Johnson's moral corruption, the way there is absolutely nothing even now, even after he has been handed his sandwiches wrapped in a road map by his own MPs - there is no depth to which he will not stoop."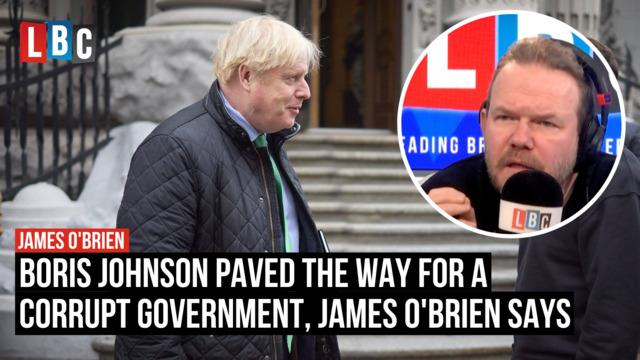 James O'Brien eviscerates the corrupted post-Boris Johnson government
He added: "Today the Daily Mail holds his coat while he writes a dispatch from Ukraine about the need for tanks."
James then said to his listeners: "I just need you to be aware of two things, lest anybody tries to persuade you that Boris Johnson is some sort of saviour, or even worthy of praise for completely coincidentally being right on this occasion.
READ MORE: Boris: Send Ukraine tanks now to speed up its inevitable victory, boot out the Russians and end this economic pain
"In 2016 during the referendum campaign, if you were paying attention to such matters, you will recall that he tried to blame the European Union for Vladimir Putin's invasion of Crimea - an intervention so utterly shameless that if it wasn't Boris Johnson you would probably struggle to believe that I was telling you the truth."
"This is the measure of the man", James said, a sense of finality in his voice. "He blamed those 2014 attacks on Ukraine upon the European Union, leading many people to brand him a Putin apologist."
James O'Brien falls into an impassioned rant about the 'absolutely ridiculous' Tory government
"Do you remember when fish-faced Farage was banging on about a European army and no one ever stopped to explain why an army we would actually be in would somehow be a bad thing?" he asked.
"If history has taught us anything about military engagement it's that the armies you need to worry about are the ones that you're not in. But hey-ho, another Brexit benefit for you there", he swiped.
"The man is despicable and now he is using the death of Ukrainians as an attempt to burnish his own tattered reputation, and of course distract attention from the latest scandals in which he finds himself engulfed", James concluded.