Ian Dunt On Theresa May: Maybe She Just Isn't That Smart
28 September 2017, 12:42 | Updated: 28 September 2017, 13:04
Discussing the latest Brexit developments with James O'Brien, author Ian Dunt offered his analysis of how Theresa May was handling Britain's departure from the EU - and it wasn't very complimentary.
The first talks since the Prime Minister's speech in Florence, Italy, last week have now concluded.
Brexit Secretary David Davis said "decisive steps forward" had been made in the fourth-round of negotiations.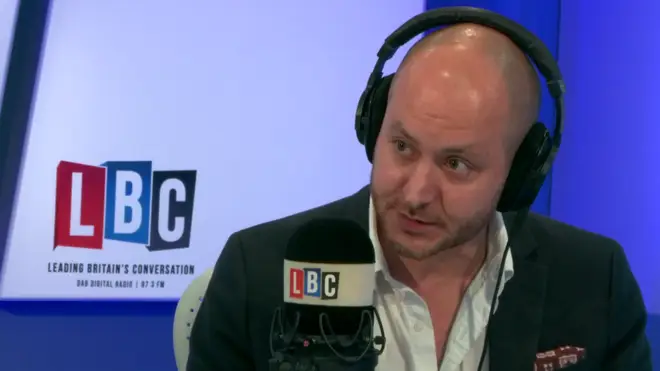 - Michael Barnier warns 'several months' before Brexit talks progress
The EU's negotiator Michel Barnier welcomed the Prime Minister's "new dynamic" but said there were still "big gaps" between the sides on some of the withdrawal issues.
Last week Mrs May attempted to break the deadlock, saying the UK wanted a two-year transition period with the bloc after March 2019.
However, speaking on LBC, Mr Dunt questioned why the Prime Minister hadn't made that intervention last year.
He said: "There is only so long that someone can demonstrably keep on being very foolish before you have to say maybe they're really are foolish.
"We've always thought of her as this grown-up politician but suddenly when you take stock and you look back on her career at the Home Office, and look back at her time at Downing Street, you see strategic error after strategic error.
"You see failures of understanding, you see misrepresentations of the objective conditions which she operates and the literal truth of the law which she is supposed to follow as a secretary of state and Prime Minister, and you're forced to come to the conclusion that maybe at the end of it she just isn't that smart."