James O'Brien Brilliantly Sums Up The May-Corbyn Lack Of Talks
17 January 2019, 13:03 | Updated: 18 January 2019, 07:16
James O'Brien found the perfect phrase to sum up the reason that Theresa May and Jeremy Corbyn
The Labour leader has refused to take part in cross-party talks to find a Brexit solution unless the Prime Minister rules out the possibility of a no-deal Brexit.
And speaking on his LBC show, James summed up the position we now find ourselves in.
He said: "Jeremy Corbyn won't talk to Theresa May until she does the thing that the Chancellor says they are going to do.
"But she won't talk to Jeremy Corbyn because she won't do the thing that the Chancellor says they are going to do.
"And you're supposed to pick a side somehow in this unholy mess.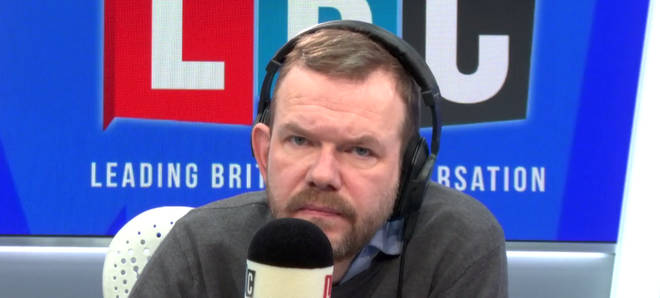 "The reason why they're still getting away with it is the absolute absence of courage at the top of both parties.
"Somebody is going to have to take a punch to the solar plexus soon, either from their own party or the country. Somebody is going to have to stand up and tell the truth.
"Because when I read a headline this morning about Jeremy Corbyn actively seeking the chaos of no deal because it creates the best circumstances for him to undertake some form of Marxist revolution, I don't smile wryly anymore at the excessive verbiage of the headline writers, I just think, do you know what? Right now, anything is possible. Anything is possible, anything at all.
"But if you want to pinpoint precisely where we are, the Prime Minister won't talk to the leader of the Opposition because she insists that she won't do that the Chancellor of the Exchequer is telling business leaders that they will do. Well done everyone."