James O'Brien Points Out The Fatal Flaw With The Daily Mail's Front Page
8 September 2017, 13:03 | Updated: 9 September 2017, 07:07
There's one fatal flaw with the front page of the Daily Mail and James O'Brien isn't going to let the paper get away with it.
Friday's edition accuses the EU of insulting the British people "yet again" with the bold headline of "Don't Treat Us With Contempt!"
It slams Jean-Claude Juncker for "hurling personal insults" at David Davis after the European Commission President said he was worried about the "stability and accountability" of the Brexit Secretary.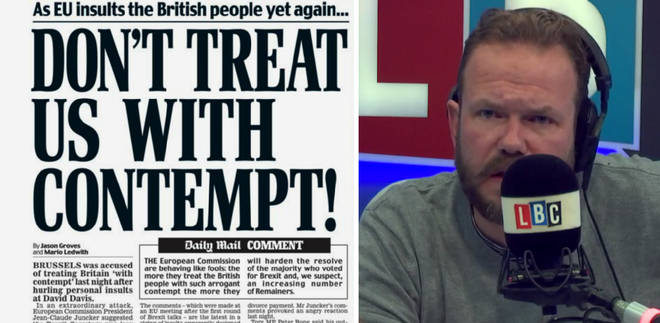 But that's not the only official from the bloc that the Daily Mail is unhappy with.
The tabloid also took aim at the EU's chief negotiator Michel Barnier, accusing the pair of trying to "destabilise the UK team".
One line reads: "At the weekend, Mr Banrier was criticised for reportedly saying he would teach Britain a lesson if it refused to hand over a massive divorce payment."
But there's one major problem with that statement and that's because it's not actually true, according to James.
Dismantling the front page, he thundered: "Why do they have to put the word reportedly there?
"Because he didn't say it… You read the transcript of what he actually said and it was including his own country, everybody in the European Union needs to be taught about what single market membership really means.
"It's as if the truth has just ceased to matter on meaningful level."
Watch his brilliant take above.