James O'Brien Pulls Apart Daily Mail's Latest Brexit 'Saboteur' Article
13 October 2017, 13:20
James O'Brien needed just 90 seconds to pull apart the Daily Mail's front page, labelling Philip Hammond a "saboteur".
The LBC presenter read through the front page, based upon a comment by Tory grandee Lord Lawson, a leading Brexiteer.
And it didn't take long before the article fell apart.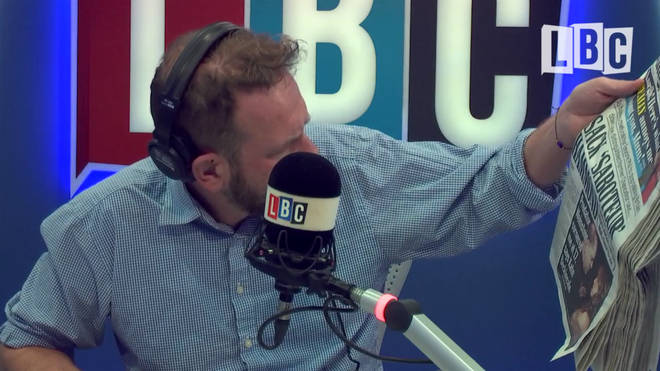 James said: "They're calling for him to be sacked, there are people accusing him of treason. It's on the front page of The Mail, needless to say Nigel Lawson attacking him or calling him a saboteur.
"I should read the Mail, shouldn't I? Business chiefs last night rounded on Philip Hammond... they really didn't guys. I've read the paper, you've phoned up some people, presumably hundreds, and you managed to find a few who were prepared to say that you think optimism is a good idea.
"But some of these businesses have only got ten members of staff. I mean, good grief, the psychodrama that the editor must be undergoing at the moment.
"Could you imagine having to do that? Could you just ring up every business in the phone book and then make a list of the ones that say something vaguely positive about the prospect of Brexit. You're going to get the bloke from Wetherspoons and the Dyson fella obviously, but a list of businesses, the majority of which you won't have heard of.
"And a lot of the business people quoted aren't actually saying they think Brexit is a good idea, they're just saying I think happiness is a good idea."