Two Men, Identical Allegations. One Is Being Destroyed, The Other Is President: James O'Brien
12 October 2017, 13:00 | Updated: 18 December 2017, 13:05
Two men were accused of near identical behaviour involving sexual assault. One has been destroyed by the media. The other became President. Just how has baffled James O'Brien.
Harvey Weinstein has checked into a clinic for sex addiction after a series of allegations were made against him by women in Hollywood.
Donald Trump, meanwhile, who is also facing allegations of sexual assault and rape - and was even caught on tape admitting he grabbed women by their genetalia. But far from being destroyed by it, he went on to win the US Election.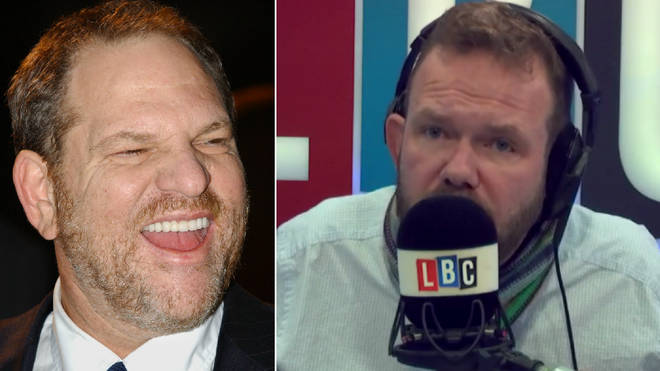 Fox News' Stuart Varney tweeted that he was "enjoying every minute" of the Weinstein affair, because it involved liberals. In response, James said: "Presumably when these things happen, they don't feel the disgust that the rest of us feel. They can't, can they?
"Huge swathes of America don't feel the disgust I feel toward Harvey Weinstein, because if I was like them, I'd have to think that Harvey Weinstein now would make a good president.
"I'd have to be sitting here thinking, 'this man's been accused of rape, sexual assault, appalling violations, utterly depraved and perverted behaviour, oh here's a tape of him admitting it, he'd make an excellent President'. Ah yeah, blooming Liberals.
"Can you just begin to make some sense of this for me, that's all.
"How can you have two men accused of almost identical behaviours, one of them quite rightly being pulled to shreds, one of them coming here on a state visit?"