James O'Brien's Powerful Theory On Trump Recognising Jerusalem As Israel's Capital
6 December 2017, 11:07 | Updated: 6 December 2017, 12:09
James said Donald Trump doesn't operate by any rules of rationality but hopes his theory on Trump recognising Jerusalem as the capital of Israel is "completely wrong".
Speaking on his LBC show, where callers expressed "shock" with the US President's decision, James asked "what could save Donald Trump?"
He had the answer to his own question and said it would be to "somehow cast himself as the saviour of the free world from the scourge of Islamist terrorism.
"But, there needs to be more Islamist terrorism for him to do that."
The LBC presenter said that "very cautiously and in genuine, genuine expectation and hope of being completely wrong that would be one explanation for why he's chosen today to declare the formal recognition of Jerusalem as the capital of Israel."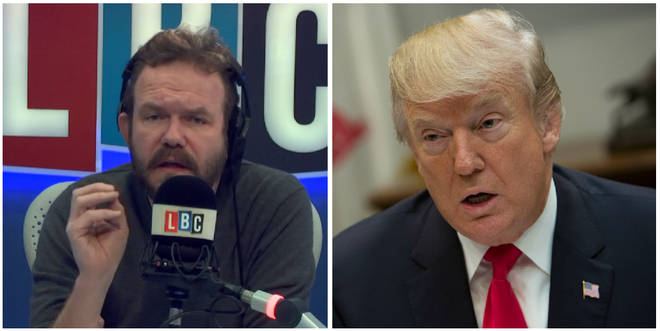 Earlier he spoke about two things this year which have changed his view of everything.
It was a powerful moment as he recalled the horrors of Grenfell and what he said was a "palpable sense of excitement among certain people on social media" hoping the Oxford Circus incident recently would have been a terrorist incident.
He said: "I can't quite get my head around the idea that things are now so toxic that when an alert is reported at a London Underground station there is a palpable sense of excitement among certain people on social media."
He added: "The kind of people who would rush towards it in the hope of being interviewed by news crews, the kind of people who start tweeting furiously about how this is yet more evidence of whatever it is they think it's evidence of."