Look Out Barack Obama, Katie's Got You In Her Sights
30 December 2016, 13:34 | Updated: 6 January 2017, 16:09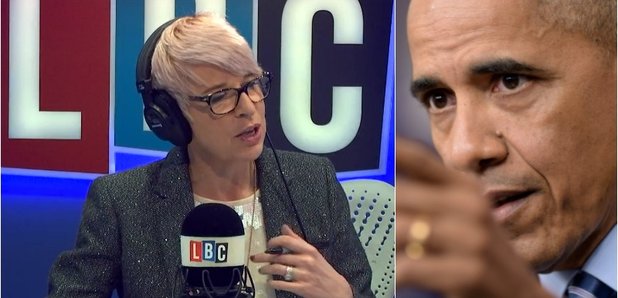 Katie Hopkins: Barack Obama seems to be stepping up the new Cold War with Russia - shouldn't he stick to social media and pretending to be cool?
Katie can't quite wrap her head around why Obama is doing what he's doing in the dying weeks of his time at the White House. He's kicked 35 Russian diplomats out of the US in response to alleged 'hacking' of the Presidential election this year.
As far as Katie's concerned there's one major motive behind it: to undermine the Trump presidency before it even begins.
She said: "If I was going to predict Obama's behaviour in the dying weeks of his presidency, it would be that he'd committed all of his time to social media, being a bit of a goof, trying to act the funny guy.

"More dancing, more singing, more trying to act like the coolest guy on the planet, all of that stuff that he and his wife Michelle LOVE to do.

"I would have seen him doing that. I would never have predicted this level of anarchy pushed through at this late hour, with 20 days to go before Trump steps in and takes control.

"It really does feel like this massive gulf is opening up between the politics of the bitter Democrats who lost but can't accept losing- remind you of anyone here in the UK?- and here, now, you know, the politics of Trump who's going to get through those doors and hopefully overturn a lot of this nonsense that Obama seems to be playing in."