Maajid Explains Why It Would Be Stupid To Boycott Trump
8 July 2017, 12:50 | Updated: 8 July 2017, 14:49
There have been countless calls for the UK to retract Donald Trump's state visit invitation - but Maajid Nawaz explains why this would be monumentally stupid.
The US President confirmed at the G20 summit that he would indeed still visit London, despite no date being set, and the US and UK continue to have a "special relationship".
Trump's upcoming state visit has received a huge backlash from his British critics.
Maajid Nawaz explained in the clip above why Britain would be stupid to turn its back on its relations with the US, having earlier explained the UK has hosted other controversial leaders before.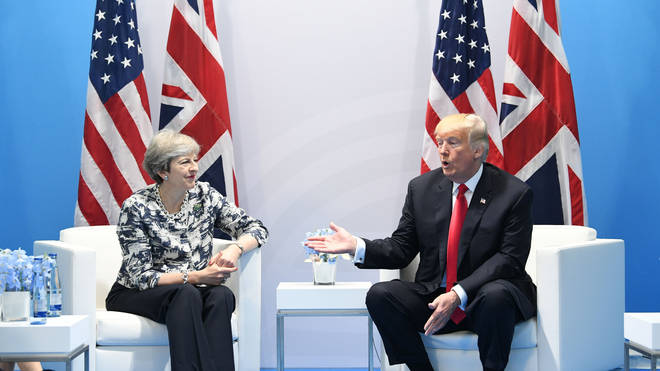 Maajid said: "Feel free to protest these people, but don't tell this government that it cannot receive these world leaders, because it has to pragmatically and practically engage with them.
"They hypocrisy of it was reason one. Now we move to the other six reasons, which are all pragmatic reasons of geopolitics.
"Number one, we have to solve the Syria crisis. We can't do that without America. Number two, we have to solve the Israel Palestine crisis. We can't do that without America.
"Number three, we have to resolve the civil war in Muslim majority states that's going on between Saudi Arabia and Iran, the regional war, sparked in Yemen, in Syria, in Iraq, is threatening to unravel the Middle East.
"We can't solve that problem without America. Number four, the new problem that just emerged between Sunni states, Saudi Arabia the Emirates and Egypt, completely boycotting Qatar and accusing Qatar of state-sponsored terrorism.
"Which is threatening to spill over again another regional conflict, we can't solve that without America. Number five North Korea, and then recently testing an intercontinental ballistic missile, we can't solve that problem without America.
"And finally, Britain's post-Brexit trade situation with the world, will be heavily reliant on America. None of those problems will be fixed and lots of human life and misery will be caused if they're not fixed, none of them can be fixed without us engaging with and negotiating with the President of the United States of America, regardless of who he is.
"So as I said, feel free to protest him when he's here, but our Prime Minister must engage with America on those topics, and others. Well that's what I think, tell me what you think, 0345 6060 973 is the number to call.
"We don't have the luxury of boycotting the President of the most powerful nation in the world, it would be stupid to try and do so, in fact, it would endanger our standing in the world and jeopardise bringing about peace in some of these conflicts that I just listed."