Maajid Nawaz On Why Making Young Muslim Girls Wear Headscarves Is Child Abuse
14 August 2017, 14:20 | Updated: 22 August 2017, 09:54
Maajid Nawaz has laid down the exact reason why he thinks it's child abuse to make young Muslim girls wear headscarves.
The LBC presenter was speaking after transport bosses were forced to drop a children's road safety campaign depicting a Muslim nursery schoolgirl wearing a hijab.
The £2m campaign was accused of sexualising a child because the religious headscarf is traditionally worn by women as a sign of female modesty in front of men.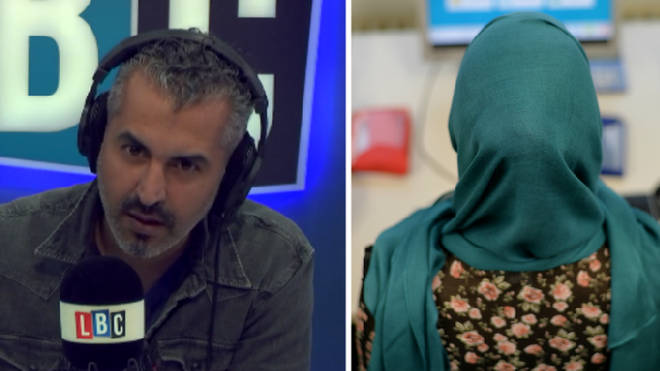 Maria from Walthamstow told Maajid she has two young girls, both of whom wear headscarves.
During a heated row, the caller was adamant it was not to protect her childrens' modesty, but instead get them "used" to wearing the item of clothing.
Maajid wasn't convinced though, as he retorted the exact reasons why he believes it's "phycological abuse" to make kids wear headscarves.
He said: "The reason I think it's child abuse to tell a child at four years old that they've got to avoid sin and get used to being modest, because the consequences of sin if God so choses to punish them is to burn in hell, imagine the imagination of a child being abused in that way."
Maajid continued: "It's abuse to tell a child at four years old that fear, so they have to get used to covering their hair so they can avoid that punishment.
"It's disgusting and I think everybody listening is cringing right now."
Watch the pair's heated clash at the top of this page.