Maajid Nawaz Says It's Time We Responded To All Acts Of Terror Consistently
18 August 2017, 11:20 | Updated: 22 August 2017, 09:52
Whether it's jihadis or white supremacists, it's about time we came up with a consistent response to terror attacks, says Maajid Nawaz.
There have been two atrocities in Spain in the past 24 hours.
Thirteen people were killed and dozens injured when a van drove into crowds on Las Ramblas in Barcelona on Thursday afternoon.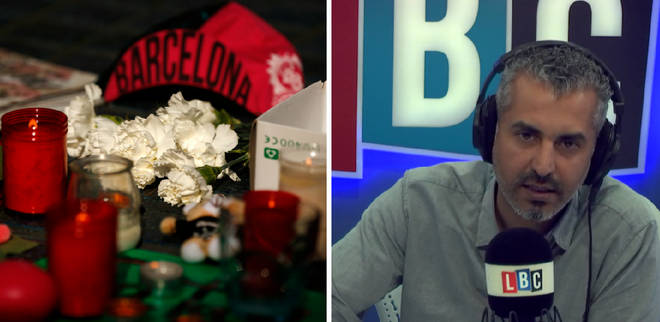 Hours later, one person was died and six people, including a police officer, were hurt when a second vehicle was driven into them in Cambrils.
Giving his take on the shocking scenes, Maajid said there was a "shocking lack of consistency" on how we react to these attacks.
He said: "Too often after white supremacist attacks, such as Charlottesville in Virginia, we hear those [on the Left] call very openly and rightly so to condemn white supremacism.
"Yet what I find curious is after jihadist attacks those same voices call change from being angry and wanting to challenge white supremacist ideology to instead after a jihadist attack talking of unity and peace."
Maajid noted that it was obvious we wanted unity and peace as he continued: "Our responses and reactions to these terror attacks must be consistent and must be the same.
"If we recognise after Charlottesville that there's an ideology at play such as white supremacism that we must challenge at every opportunity then likewise we must recognise after attacks in Spain that there is also an ideology in play."
But it's not just those on the Left Maajid took issue with.
He added: "Every time there is a right-wing terror attack people on the far-right try to contextualise it, try to say it was an isolated incident.
"They don't want to challenge neo-Nazi ideology and yet every time there's a jihadist those on the far-right do want to talk about ideology."
Watch his take in full above.