Here's Why Maajid Was "Wincing" While Speaking To Yvette Cooper
21 January 2017, 12:58 | Updated: 21 January 2017, 17:40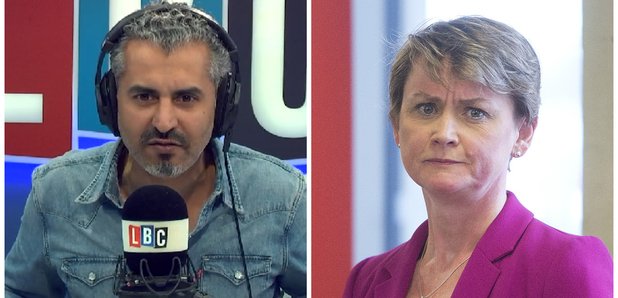 Labour MP Yvette Cooper spoke to Maajid Nawaz ahead of her speech at the Women's March today.
Yvette Cooper gave a speech at the Women's March today as thousands took to the streets of London to "stand in solidarity" with women across the world against Trump's presidency.
Speaking from the march before her speech she spoke to Maajid Nawaz about the importance of the march.
Maajid first asked her about the potential threat to women's abortion rights.
She said: "I think that is really troubling for women across the United States...because in the end I think issues around abortion should be for a woman and her doctor and her family to be able to make their choices.
"Not for it to be something that's just determined by a kind of ideology.
"I think we've also seen the campaigning. Some of the anti-abortion groups that campaign in the United States have tried campaigning here in Britain. You know aggressive protests outside abortion clinics, which is something we've been trying to prevent happening."
She went on: "I just think [Trump's attitude] towards women and towards saying that sexual assault is something you should never, never condone."
Maajid responded: "As you're speaking...I am wincing. And the reason I am wincing, Yvette, is because in January 2017, here is you, a member of parliament, is saying women should have the right to their own bodies and shouldn't be sexually assualted.
"I just can't believe we even have to have this conversation."
Yvette added: "I agree. That's why I think that some of the things that Donald Trump said during the campaign were so disturbing. Because you're right, these are things that we thought we had said goodbye to."