Daughter Of Nicholas Winton: 'My Father Urged Theresa May To Show Compassion'
11 February 2017, 13:03 | Updated: 11 February 2017, 18:28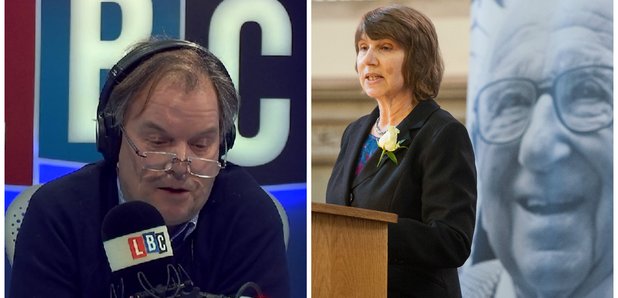 Daughter of Sir Nicholas Winton, Barbara, said her late father urged Theresa May to show compassion and she would ask the same thing when it comes to child refugees.
Barbara Winton, daughter of Sir Nicholas Winton, spoke to Matt Frei on his LBC show this morning following the government announcement it will welcome only one more group lone child refugees to the UK.
So far only 350 have been brought to Britain, but campaigners had hoped for 3,000.
Sir Nicholas Winton was a humanitarian who organised the rescue of mostly Jewish children on the eve of the Second World War in an operation later known as Kindertransport.
He died in 2015, but his daughter Barbara said he continuously urged Theresa May, his MP, to "show compassion".
Matt Frei asked Barbara: "So when Amber Rudd said this was to stop incentivising perilous journeys, to stop the human trafficking, do you buy that argument?"
Barbara said: "Not really, I'm afraid. I feel that children who have been promised help and see that help withdrawn will feel that they have no choice but to keep going trying to find a safe haven."
She went on: "When the Kindertransport happened it wasn't as if Britain was a rich country that could afford to do this. It was done by people with very little means who opened their homes and their hearts to vulnerable children.
"I think today there are people who are struggling in this country too, but that doesn't mean that their hearts aren't moved by the site of young children in the snow in tents in Greece."
Barbara said she tries to 'follow in her father's footsteps' and be encouraging rather than critical of governments.
She added that she has written an open letter to Theresa May.
Barbara went on: "They knew each other relatively well, they met on occasion, at local events, and my father, though he was of a very different political persuasion to her, very much enjoyed meeting her and discussing issues of the day and encouraging her to show compassion and to do the right thing and to compromise.
"And I think a great compromise would be to bring in more children and she did speak at his memorial service last year. We were very lucky that she came, and it was very nice that she did.
"She said some lovely things about him, including the fact that she said 'I hope his life will serve as an inspiration for us all and encourage us to do the right thing'.
"My letter is a reminder of that."