Matt Frei On The Irony Of What Happened To Trump's Grandfather
21 January 2017, 16:45 | Updated: 21 January 2017, 19:19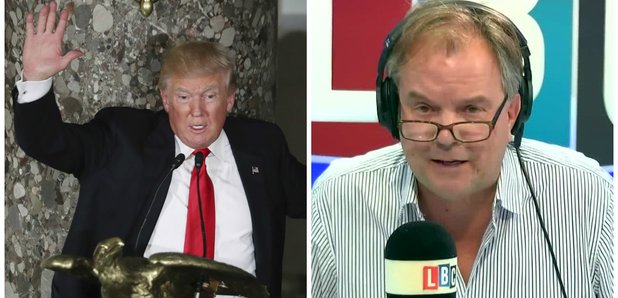 Matt Frei has recently made a documentary on Trump's ancestry and what he found out is fascinating.
Matt Frei was broadcasting live from Washington D.C. earlier today after covering his 5th presidential election.
He has recently made a documentary on Trump's ancestry and recounted this interesting fact about Trump's grandfather, Frederick Trump.
Frederick, a German-American businessman, was born in the Kingdom of Bavaria, now in Rhineland-Palatinate, Germany.
He emigrated to America at 16 and began working as a barber, and later a businessman.
The LBC presenter said: "He made quite a lot of money. And with that money he returned to this place called Kallstadt, where he was born...and he decided having made his money that he wanted to stay.
"He wanted to basically park his toothbrush, not in the United States, but in Germany. And the German authorities said 'computer says no, you cannot stay, because you didn't fill out the paperwork, and you didn't do your military service'."
Matt said that he was ordered to go back to America and for four years he battled extradition, and was threatened with deportation if he did not leave.
Matt added: "Isn't it ironic that the man who has threatened to deport millions of illegal Mexican migrants is the grandson of a man who was threatened with deportation from Germany?"
He continued: "If they had said 'OK Frederick, lets all make up, you can stay'. Then as the Mayor of Kallstadt said to me 'well, Donald Trump wouldn't be President of the United States, he might be the Mayor of Kallstadt'."