Ken Clarke: I Would Have Been Laughed At If I'd Backed Article 50
4 February 2017, 12:26 | Updated: 4 February 2017, 15:43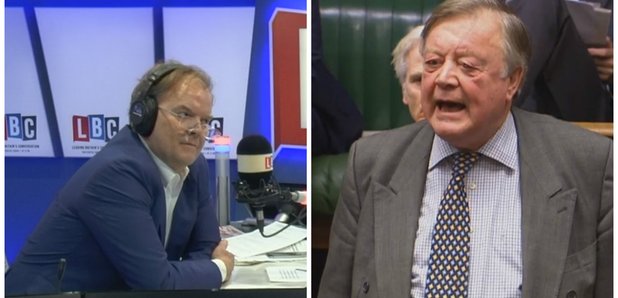 Ken Clarke was the only Tory politician to vote against triggering Article 50. Here he tells LBC Presenter Matt Frei why.
Earlier this week MPs voted overwhelmingly to trigger Article 50, which will allow Prime Minister Theresa May to get Brexit negotiations under way.
MPs backed the government's European Union Bill by 498 votes to 114.
Ken Clarke was the only Conservative politician to vote against triggering Article 50.
Speaking to Matt Frei on the LBC Presenter's Saturday morning show, Ken said he would have been laughed at had he voted with the rest of his party.
The staunch Remainer said: "I think my views are so well known, and for 50 years I've not only been pro-EU, pro-European, but really quite actively involved in Britain's involvement with the steadily growing European Union.
"That Eurosceptics...would have been utterly amazed if I'd cast a vote in favour of Britain leaving the European Union. I would have been laughed at."
He then went onto explain why his fellow Tories voted the way they did: "They'd all signed up to this ridiculous referendum.
"in 50 years I've been saying that I don't think that referendums are a sensible way of deciding, certainly not huge complicated issues like this.
"As we're discovering, or just beginning to discover, it's not just a question of are you a member of the European Union or not."
He went on: "I felt free to vote. Everybody else had gone along with the line 'oh of course, we're going to listen to the voice of the British people and they're still rather shell-shocked to find that the answer was leave."
Matt then said that other MPs would seek re-election in the next General Election, whereas Ken would not.
Ken responded: "Yes, that as well. But I've never sought election on the basis I'm open to being pushed into saying we should leave the European Union.
"I vote in the House of Commons...on the same basis that I stand as a candidate in the General Election. These are my views. These are my judgements.
"Things will come up that we don't anticipate but I will exercise my judgement then. Vote for me if my approach to policies is the sort you'd like, vote against me if you don't.
"But when it comes to the House of Commons, of course I am always going to vote in the end of what I believe to be in the national interest."
He later went on to tell Matt how he thinks the referendum should never have happened, and that David Cameron did it in order to silence the Eurosceptic backbenchers.
Matt Frei then asked him if he was 'sticking pins in a David Cameron doll?' and this was Ken's response.