It Is "Absolutely Obvious" Brexit Deal Will Not Pass Through Parliament: Tory MP
17 November 2018, 10:48 | Updated: 17 November 2018, 10:50
A Conservative MP who has handed in a letter to the 1922 Committee insists it is "absolutely obvious" that nobody believes the draft Withdrawal Agreement will get passed through the Commons.
Mark Francois handed his letter to the Conservative Party's 1922 Committee yesterday with the provocative subject line "she just doesn't listen".
He told Matt Frei that if MPs were "sensible" they would consult on the agreement with their local party members before returning to Westminster next week.
But when Matt questioned his confidence of getting enough support for a no-confidence vote, he said: "We will see."
"Chequers does not represent leaving the European Union," he said.
"That betrays the spirit of the referendum so I can not possibly vote for it.
"It is absolutely obvious to every single Tory MP that it will never ever get through the House of Commons."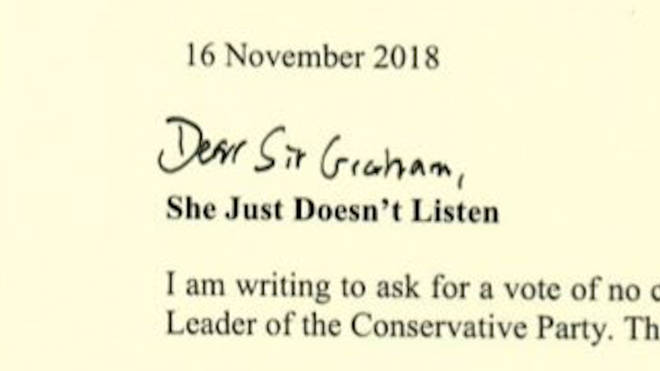 Mark Francois' letter in full:
Dear Sir Graham,
She Just Doesn't Listen
I am writing to ask for a vote of no confidence in Theresa May as Prime Minister and Leader of the Conservative Party. This is something I thought I would never do.
Since Chequers, I and other senior members of the ERG, have been attempting to persuade the Prime Minster and senior officials in No.10 Downing Street that there was no way that a deal based on that agreed at Chequers would ever pass through the House of Commons and to pivot instead to a free trade arrangement known as "Super Canada". I can tell you that we tried repeatedly to get this message across – over a period of some four months – confidentially, respectfully and in private. However, in short, no one really listened to a word we said.
The Prime Minister has been surrounded throughout this process by a Pretorian Guard of highly pro-European senior civil servants who, I believe, have never accepted the result of the referendum. Instead they have helped to steer the negotiations in such a way that means, quite simply, we will not in fact leave the European Union but effectively remain within it. This is a betrayal of the decision of 17.4 million British people and the clear instruction that was given to all Members of Parliament by them in the referendum.
Now that the details of the deal are available we can see how truly awful it is. Despite the Prime Minister solemnly assuring the House on over twenty occasions since 2016 that we would leave the Customs Union (as clearly stated in our 2017 General Election manifesto), Mrs May now envisages a situation in which we would remain in the Customs Union in perpetuity, only allowed to leave with the consent of the EU. This is utterly contrary to the spirit of Brexit and means our County would surrender control of our national destiny to Brussels. I can never vote for this and neither can many of my colleagues.
In addition, we have agreed to maintain "equivalent standards" with the European Union in critical areas of employment policy, environmental policy and social policy, in effect this means we would continue to accept EU law in these areas, except that we could now have absolutely no control over how that law was drafted. This is not taking back control of our laws, it is making us subservient to the laws of others.
Moreover, at a time when MPs have seen very difficult decisions taken in their constituencies, including the closing of police stations and being briefed by Headteachers on the extremely tight situations in their school budgets, as part of this deal we are proposing to send £39billion of British taxpayers money to Brussels – for absolutely nothing whatsoever in return. This is hardly taking back control of our money.
As I tried to say respectfully to the Prime Minister in the House of Commons yesterday, there is absolutely no way that this deal will pass through the House. The Labour Party are now pledged to vote against it (with perhaps a handful of exceptions); the SNP will vote against it; the Liberal Democrats will vote against it; crucially the Democratic Unionist Party will vote against it and over 80 Conservative MPs are pledged to vote against it as well. As I said yesterday, this makes it "mathematically impossible" for the deal to pass. I pleaded with the Prime Minister to accept the political reality of this situation but still she continues to believe, against all evidence to the contrary, that she will get it through. She is, in short, in complete denial.
Like many colleagues, I am also deeply worried that Chequers would treat Northern Ireland differently from the rest of the United Kingdom. Not only is this a betrayal of the Province but it would give succour to our opponents in the SNP and assist them in renewing their calls for the breakup of the United Kingdom. As members of the Conservative and Unionist Party we cannot and must not allow this to happen.
In raw political terms there is also the fact that the Prime Minister has appallingly treated and now alienated our strategic allies in the Democratic Unionist Party. We rely on these MPs for a working majority in the House of Commons, given the disastrous General Election of 2017 which she called and in which we lost over 30 valued colleagues. As ever, this was a decision she took with a very small coterie of advisors and without seeking opinion or advice from her experienced colleagues.
The DUP can speak for themselves but from what I have seen over the last few days, and given Nigel Dodds' words in the House yesterday when he said "she just doesn't listen" it seems to me that not only will the DUP resist Chequers but they have effectively now lost all faith in the Prime Minster. This means that it will be practically impossible for us to continue to rely on them to prop up the Government while the Prime Minister remains in Office. I therefore believe that in order for our Party to survive in.
Government it is imperative we find a new leader who can command the respect of the DUP and therefore maintain the working majority in Parliament. This is, to coin a phrase, an inconvenient truth but it is there nonetheless.
Like almost all MPs, from whichever Party, I came into Parliament to serve my Country. Many years ago I served in the Territorial Army in the Cold War. As far as I am concerned, what I am doing now – and about which I have thought very carefully over a number of months – is defending my country again.
Given the number of Cabinet and other Ministerial resignations, I do not believe that it is in any way possible for the Prime Minister to repair the damage which she has done and therefore the Conservative Party needs new leadership if it has any chance of moving forward and rebuilding trust with the electorate.
In summary, I believe that Chequers, to which the Prime Minister, is clearly unbreakably wedded, would not constitute Brexit in any shape or form whatsoever and would therefore betray the spirit of the referendum and the decision of 17.4 million British people. I urge my colleagues to consider the likely reaction in their constituencies if their constituents believe that, having voted for us to leave, the politicians have conspired to deny them their decision. At any subsequent election their backlash would be brutal.
For the sake of the Conservative Party and indeed for our Country's destiny, I honestly believe that is now time to seek fresh leadership that can carry this Country forward outside of the European Union and confidently into the world.
Yours regretfully,
Rt Hon Mark Francois MP